Not all flooring options are equal so it is hard to know what flooring is best suited for your project. To help your decision-making process, below is a flooring guide. Broken down into flooring product category, we have provided tips on installation and the durability of each product category to help you make the best choice possible for your home and lifestyle.
Carpet
There are a number of benefits associated with carpet, such as being hypoallergenic, reducing noise and it is easy to maintain. However, carpet can be made from one of four different fibers, which all perform and look slightly different. The four fibers are: Nylon, polyester, polypropylene, and natural fiber (wool). It is important to choose the right fiber for your household and lifestyle.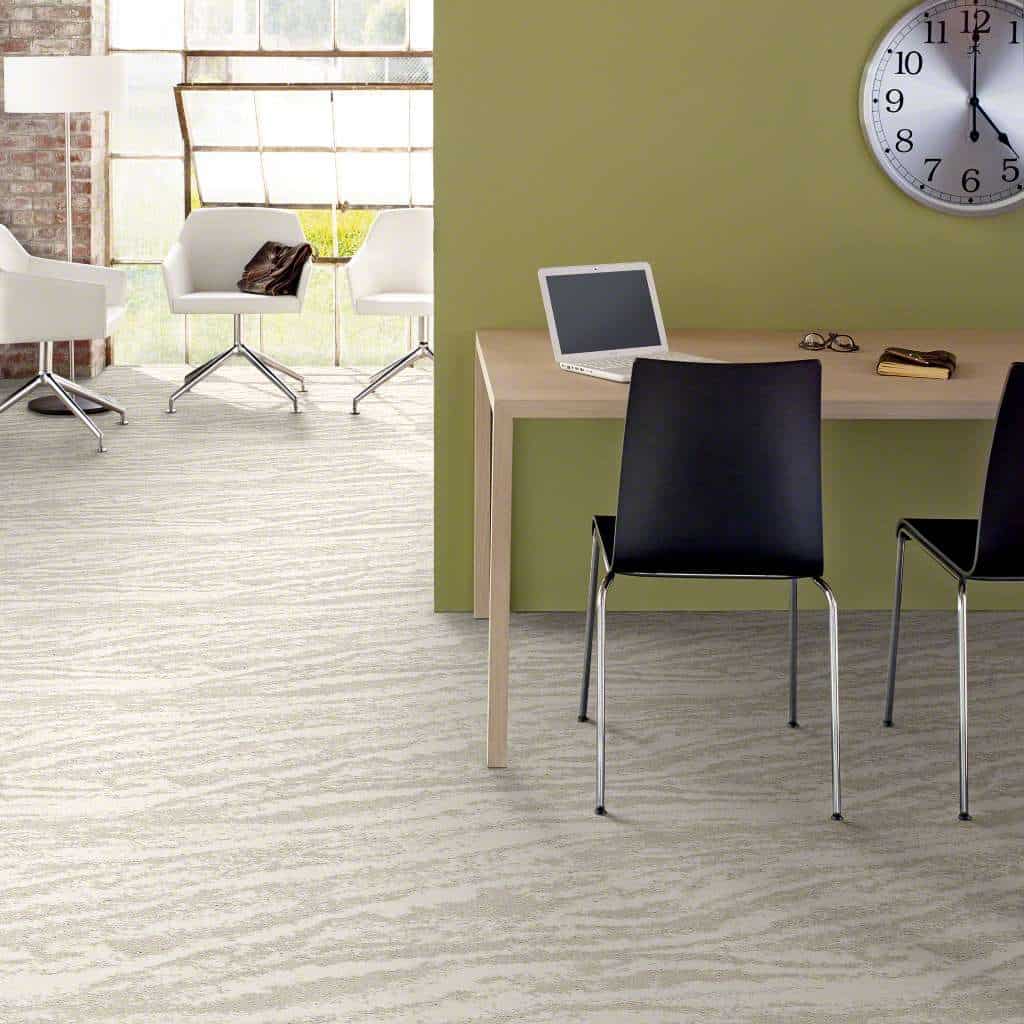 Installation – Carpet is cushiony and warm which, makes it perfect in family rooms and bedrooms, especially for children or older residents. Carpet can also create a more peaceful environment as it helps reduce noise from dropped objects and footsteps. This flooring type is not suited for wet areas such as bathrooms and kitchens.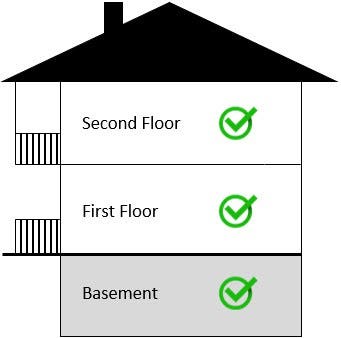 Durability – Each fiber has a different durability so we will break it down by fiber. Nylon is very durable thanks to its strength and resilience. Although not naturally stain resistant there are stain-resistant treatments that can be used to protect your carpet. Polyester is not as resilient as nylon is, however it is the best for retaining colour and provides a very soft feel. Polyester carpet is not recommended for high traffic areas as it is prone to compaction. The strengths of polypropylene are superior stain resistance, resistance to fading, and it is low-cost. Despite its strengths it is not very durable and can lead to crushing. Wool is the premier fiber in the world of carpet, it is highly resilient and durable. Wool is a natural fiber and has a natural barrier to protect against moisture, stains, and even static. Less static means less dirt and dust.
Hardwood Flooring
The natural elements and beauty of hardwood floor is timeless and highly sought after. Hardwood flooring is available in two forms, solid hardwood and engineered hardwood. Knowing the difference is important as the make-up and performance of the two are different. Solid hardwood is 100% solid hardwood planks where as engineered hardwood has a stable, layered construction with a wood top and backing. Hardwood is also durable, making your investment last.
Installation – Hardwood floor is perfect for most rooms in your home however it is not recommended for bathrooms, laundry rooms or areas that may be exposed to puddles and high humidity. Hardwood is highly susceptible to moisture; planks can either absorb moisture and expand or dry out and shrink. However, engineered hardwood is designed to be more stable than solid wood and therefore may be a good choice for basement installations, over concrete slab, or radiant heating systems.
| | |
| --- | --- |
| ENGINEERED HARDWOOD | SOLID HARDWOOD |
| | |
Durability –Wear and tear over time is inevitable, however hardwoods durability and long-lasting performance is what home owners value. Durability can be affected by the hardness of the wood species selected, level of protection of the finishing products and the amount of traffic your floor gets.
Luxury Vinyl Flooring
Luxury vinyl flooring is designed to resist moisture and everyday wear and tear, built to withstand even the busiest of lifestyles. With today's technology luxury vinyl is able to fool even the biggest critics with its realistic visuals and texture of hardwood and stone.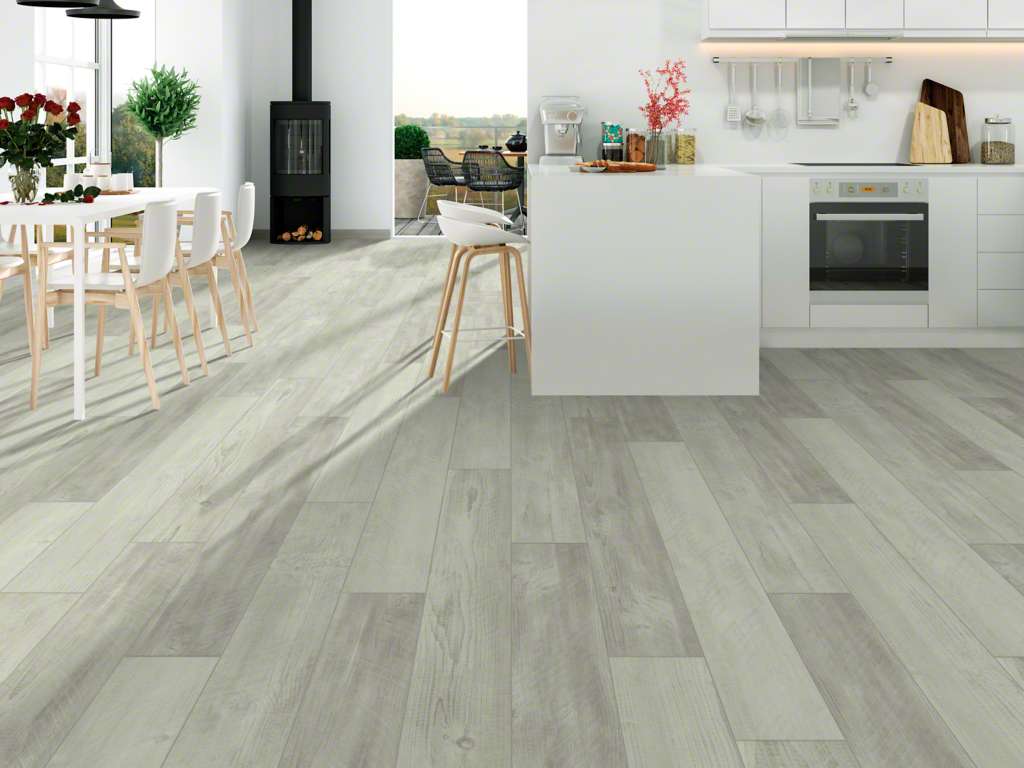 Installation – Luxury vinyl is perfect for bathrooms, kitchens, basements and laundry rooms however due to its durability it is a suitable option for any room in your home. You can also expect a quicker installation compared to a regular ceramic tile installation.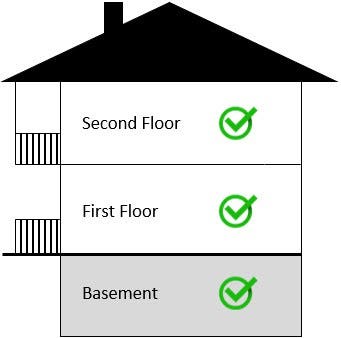 Durability – Luxury vinyl is renowned for its high-durability and scratch resistant features. Some luxury vinyl products are 100% waterproof so it won't swell, buckle or lose its integrity when exposed to water. It is also very easy to clean and maintain.
Laminate Flooring
You can get the look and feel of hardwood or high-end stone on a budget with laminate flooring. This is a hardworking floor ready to take on the challenges of a busy family.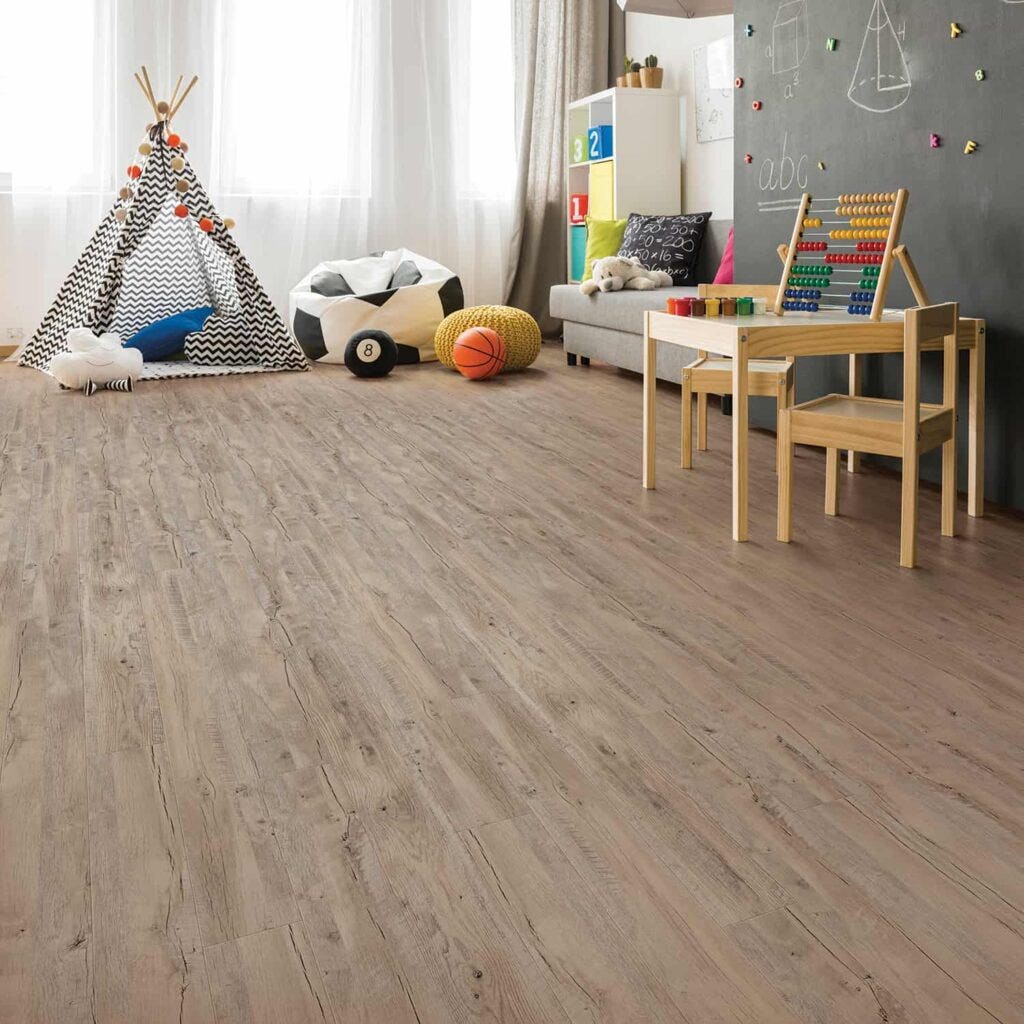 Installation – Laminate can be installed virtually anywhere in your home: kitchens, foyers, family rooms and bedrooms.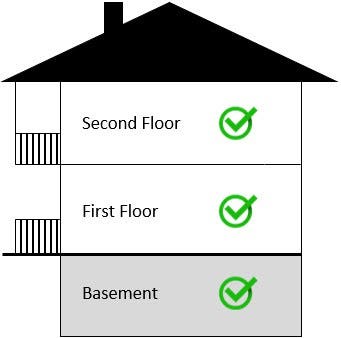 Durability – Designed for the most active households as laminate is built to withstand everyday wear and tear. It is constructed in layers one of which is a hardened wear layer to protect from scratches, surface spills, stains and fading.
Cork Flooring
Cork flooring is harvested from the bark of cork oak trees, which makes them one of the most eco friendly flooring products on the market. The cork is grounded up, compressed, and formed into sheets bonded with resins. Cork offers a very soft and cushiony surface and is hypoallergenic!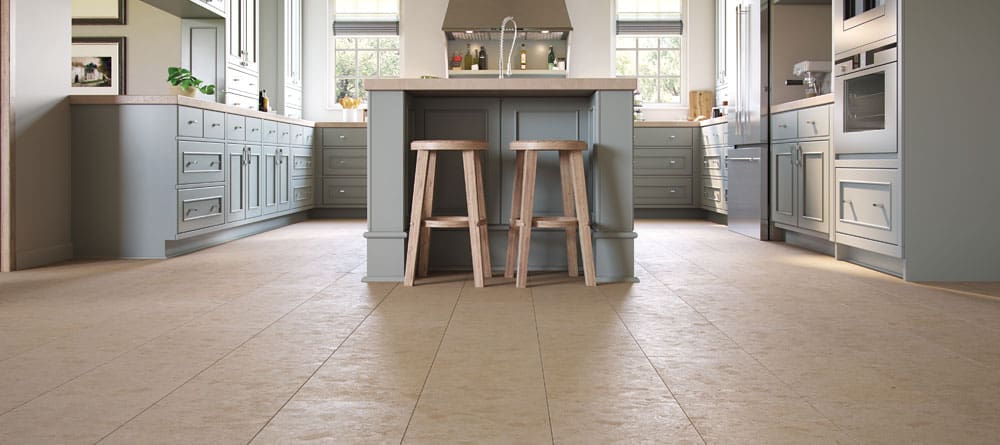 Installation – Installing cork flooring is very easy whether it be a peel and stick product or if it requires thin set. You can replace damaged planks and tiles once it has been installed. It is a great option for areas that you will be standing for long periods of time due to the cushion it provides, as well as children's rooms or places where older residents reside. Cork is best installed on on-grade or above-grade levels and not recommended for basement application. Basements have a risk of moisture migration from the slab and can cause glue-down tile to lift and cup. However, speak to your Nufloors flooring specialist as there may be solutions to this application such as using a floating floor over a moisture barrier.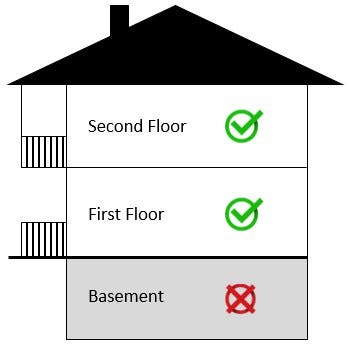 Durability – Because of corks super soft nature, it makes it very susceptible to damage. Dropping sharp objects, furniture legs and high heels can cause harm. In addition, you will want to ensure your cork floor is properly sealed and finished once installed because water and humidity can cause cork to warp and lift. Be careful of sunlight also as it can cause discolouration. Cork is similar to solid hardwood in that you can refinish and reseal your flooring multiple times to extend its life span.
Sheet Vinyl Flooring
Sheet Vinyl flooring comes in a large roll and is cut to size. It is available in a large selection of styles to fit every budget and lifestyle.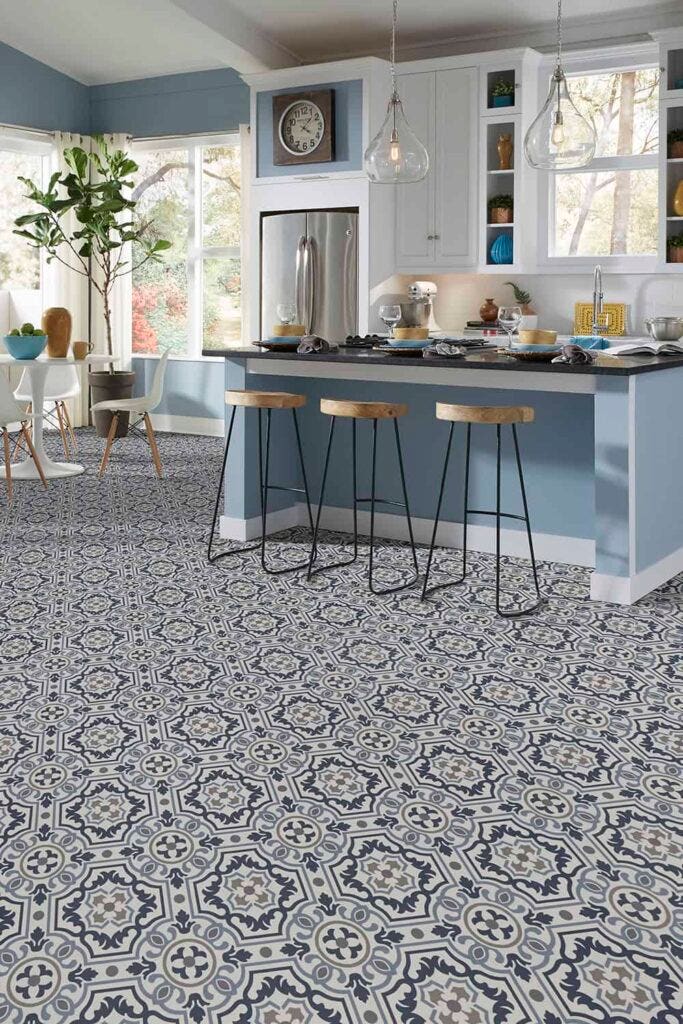 Installation – Sheet Vinyl is versatile enough for any room in your home. Also, the single solid surface makes it a great choice for kitchens, bathrooms and laundry rooms where there is typically more moisture.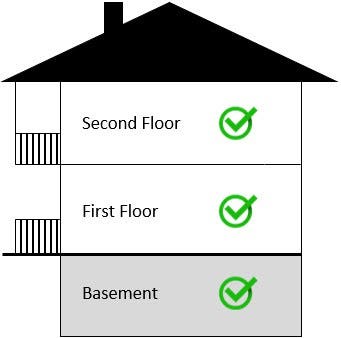 Durability – Sheet Vinyl can withstand scratches, scuffs and stains. There is a lot of technology that goes into manufacturing this type of product and therefore there a number of different performance levels you can find it in. You can find a vinyl sheet that suits your lifestyle based on durability, comfort, style and on a budget!