Wood flooring naturally comes in long boards. The general rule and most popular way to run your wood flooring is to run it from the front door, straight to the back of the house, perpendicular to the front. Although you may think you are adding interest to your space by installing your wood floors in different directions in different rooms, in reality it makes your house look chopped up. Installing floors this way also costs more.
Since in some cases the layout of homes can be unique, there can be some exceptions to the rule when it comes to which direction you should install your wood flooring.
Installing a Pattern, Inlay or Border
Naturally, these would cause a change in direction. However, they are typically done in higher end installations as a custom design feature. This change in direction and pattern is intentional and looks appealing because it is done purposely.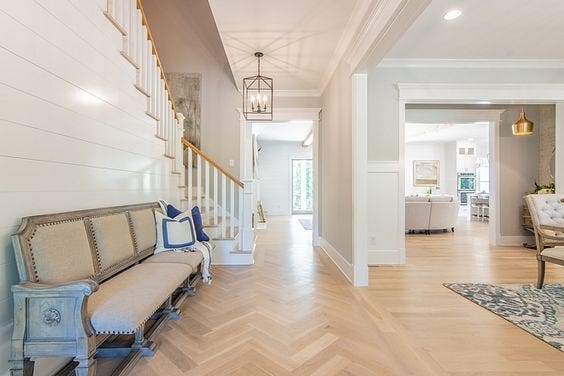 Matching New Flooring with Existing
This exception applies when you are installing new flooring in an area of your home and you are unable to feather it into the existing flooring. This may be because the existing flooring has been re-stained or simply the product is no longer available. So you have to go with a product that is similar, but may not be an exact match. If this is the case you may want to turn the boards the opposite direction to make it look like a purposeful transition.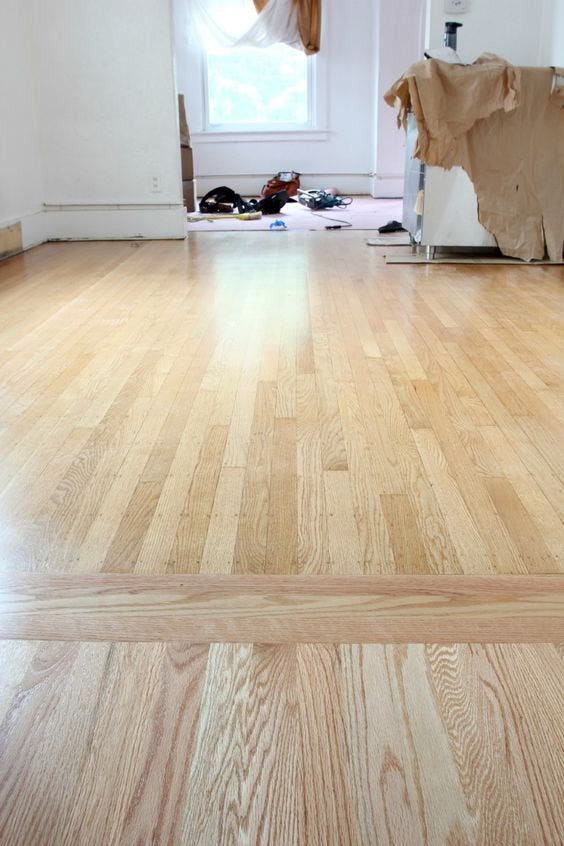 Pier and Beam Foundation
This only applies if you are working with a solid hardwood (not engineered) and you are installing it on a pier and beam foundation. In this case you do not have a choice of which direction the flooring will run as it is best that it runs perpendicular to the joists. With slab foundations and engineered hardwood there is more choice and flexibility.
Your flooring provider will work with you to provide the best advice as to which direction will work best in your home.