That cloud nine feeling.
Carpet brings a sense of comfort and warmth to any room.
Take your shoes off and stay awhile. A popular option
for those who prefer softness and style.
The choice is yours.
Browse the four carpet types and get to know the benefits and considerations of each.
Loop construction carpet has dense, looped strands and a low profile for a clean, low-maintenance look. This style is durable, reliable, and ideal for high-traffic areas.

Looped fibers create a casual appearance and reliable durability. This carpet hides footprints well with a rugged looped surface: ideal for high-traffic areas.

---

Ideal Rooms

Great choice for family rooms, home offices and hallways.

Benefits

Durability – Since there are no exposed tips, looped carpets are extremely durable.

Easy to clean – Spills sit on the top of the pile due to the looped construction. If you get to the stain quickly, it will not sink into the fibre. Looped carpets will also hide footprints and vacuum marks well.

Considerations

Pets – Pet nails can snag the loops if the carpet features large loops. Cats tend to see looped carpets as great scratching pads.

Texture – Looped carpets are not as soft on your feet compared to other types.

Weight – When choosing your looped carpet, you'll see it expressed in weight. A typical carpet may have a face weight of 35-40 ounces for example.

Pattern construction carpet is made with varying loop and cut heights for looks that range from bold and dramatic to simple and understated. This low-profile style handles traffic beautifully.

Patterned fibers create a dramatic look with varying loop and cut height. From contemporary to traditional designs this carpet adds texture and colour to any room.

---

Ideal Rooms

A great choice for bedrooms, family and living rooms, home offices and hallways. Any room looking for a touch more personality.

Benefits

Easy to clean – Patterned carpets are effective at hiding stains due to the different look and cut heights.

Opens a room – Pattern carpets make rooms look larger and hallways look longer.

Considerations

Excessive material – Possible to have more waste when installing due to pattern matching.

Enhanced performance – Carpet with spill and pet protection are in high-demand.

Pattern matching – Bring samples home before you buy. The proportion of a pattern will look quite different in the context of your room.

Texture construction carpet has long, crimped yarns for a casual look that works for any room. With a higher pile for a super-soft feel, texture is a popular style.

Textured styles and are a great choice for busy families as it is "trackless" as it won't show footprints or vacuum cleaner marks. This is a casual carpet that will show less wear and tear then other styles.

---

Ideal Rooms

Family/living rooms, dining rooms, and bedrooms.

Benefits

Easy to clean – Darker colours can hide stains well. This is a great choice for stairs.

Price – Available in a broad range of prices.

Style – Textured carpets will never go out of style. It's a classic look for many homes.

Considerations

Look – Create a less formal look with the smooth, level finish of twisted yarns.

Quality – Textured carpet can be deceiving when it comes to quality. Some carpets may look full and dense but can sometimes just be a number of fibres puffed up.

Trackless – this style is "trackless" because it doesn't show footprints and other marks on its surface

Frieze, or twist construction, carpet has high, twisted yarns for a longer crimped look and relaxed feel. Its long twists create dimension and visual interest as well as a bouncy, springy feel underfoot.

Twisted fibers create a soft, bouncy, springy feel – great on bare feet. For this reason, the style is sometimes referred to simply as 'twist'.

---

Ideal Rooms

Active areas like a family room or playroom.

Benefits

Durability – Works well in high traffic areas of your home. The fibres make frieze great at hiding footprints and seams.

Considerations

Stains – As frieze fibres are long and loose, a spill is free to run everywhere. Accidents could be harder to tackle.

Look – Go for a soft, comfortable, casual look with a longer cut pile frieze.
To view product samples please select the Nufloors store nearest to you:
Choose a Store
Carpet Types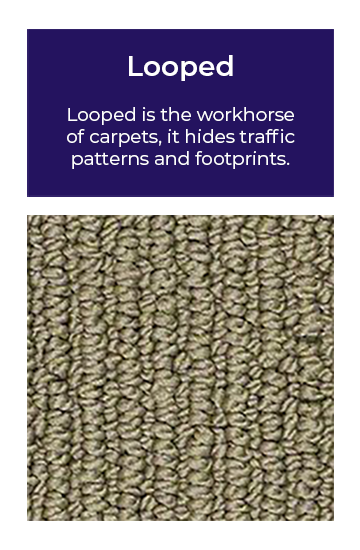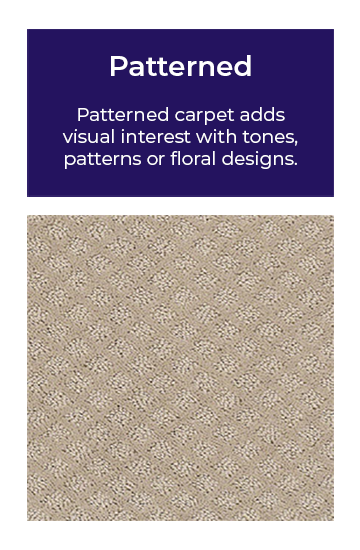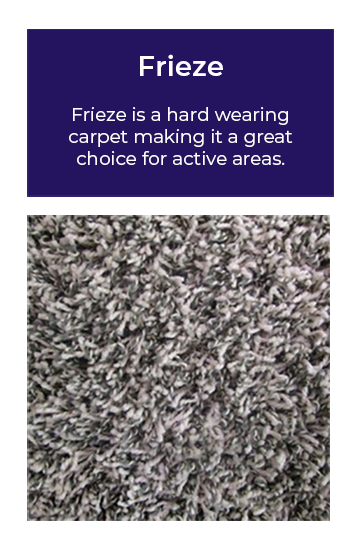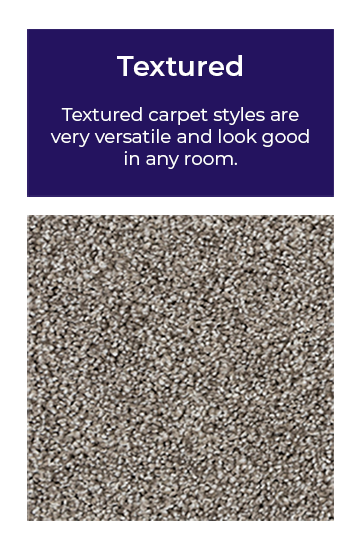 The almighty carpet.
Softness under your feet.
Carpet provides safety protection for the whole family, but especially for toddlers and older individuals. It also provides warmth for the feet.
Reduces noise generation.
Carpet is a great cushion for when objects hit the floor. It absorbs other sounds around your home to create a more peaceful indoor environment.
Easy to maintain.
A good vacuum cleaner, a periodic professional carpet clean and prompt attention to spills are all you need. Professional carpet cleaning is required every 12-18 months to keep your carpet looking new and to maintain manufacturer's warranties. Be sure to check your carpet manufacturer's warranty for specific requirements. Keep copies of your professional cleaning invoices as these will be needed should you have a warranty claim.
Invest in the right fibre.
| FIBRE | NYLON | POLYESTER | PTT | POLYPROPYLENE (Olefin) | NATURAL FIBER (Wool) |
| --- | --- | --- | --- | --- | --- |
| Style Options | Excellent | Good | Fair | Fair | Good |
| Colour Options | Excellent | Good | Good | Fair | Good |
| Soil Resistance | Excellent | Fair | Fair | Poor | Very Good |
| Stain Resistance | Excellent | Excellent | Excellent | Excellent | Excellent |
| Texture Retention | Excellent | Good | Good | Fair | Excellent |
Nylon is one of the most versatile of all fibres, providing excellent durability and flexibility in creating a variety of carpet styles. Not inherently stain-resistant, most nylon carpets, however, feature stain-resistant carpet treatment.
Polyester (PET) is the best at retaining colour and won't fade over time. It provides a soft feel though it's not as resilient as Nylon. Best uses are in low to medium traffic rooms.
PTT – PTT or Triexta is the newest fibre in the carpeting industry. Triexta is naturally very stain resistant. Many spills can be cleaned with only water, rather than using a spot cleaner. Another advantage to Triexta features good resiliency and is softer than both polyester and nylon.
Polypropylene (Olefin) is a relatively inexpensive fibre with superior stain resistance. It's a solution-dyed product which means it's highly resistant to bleaching and sunlight fading. Olefin fiber is not as resilient as other fibers, meaning that it does not have the same ability to "bounce back" after being compressed by foot traffic.
Wool carpets are natural, sustainable, renewable and age gracefully to provide years of beautiful service. Wool is considered to be a premium fibre. It improves your indoor air quality, is naturally flame retardant and helps regulate humidity. It is also a natural insulator, helping to reduce heating and cooling costs, and well as having superior sound absorption. Wool does require more specific maintenance. Use of an appropriate vacuum and recommended spot removal methods are key for keeping your wool carpet beautiful for years to come.
Tips to think about.
Seeing Seams
Depending on the room size, you will have seams. Seams should be away from windows where falling light may worsen the seams and high traffic walkways. Nufloors will review all these details with you when the carpet is installed.
A Good Underpad
Investing in a good underpad is an essential piece of your new carpet. A good underpad will improve foot comfort and thermal and acoustic properties. Ask us about the type of underpad best suited for the carpet you choose.
Keep Your Invoices
After you purchase a new carpet from Nufloors, keep a record of the invoice. It will detail the product name, colour, manufacturer, the type of underlay and any warranty information. Keep your warranty information and check to see how often professional carpet cleaning is required to maintain your warranty. Keep your carpet cleaning invoices as this will be required as proof if you have a warranty claim.
Room by Room
Choose the best carpet for each room. A stain-resistant product is worth the splurge in your busy family room. A more affordable low traffic carpet would work better for your guest room.
Pre Work
Depending on the existing floor covering, there could be an additional expense if removal of your old flooring is required. Also depending on the condition of your sub-floor, additional work may be needed.
Installed by us.
You'll receive your Nufloors pre-installation guide which will outline everything you need to know regarding installation.
Paint
If you are planning to paint, wallpaper, or do any other remodeling in the room, try to do this before your flooring is installed. Keep extra paint to allow for post-installation touchups.
Move Furniture
Who is moving the furniture? Plan this in advance. Ensure to remove all fragile items from the room.
Remove your existing Floor
Make sure you know who is removing your existing flooring. Speak with Nufloors about this.
Check door clearances
Measure door clearances before you have your new flooring installed. If the new flooring is thicker than your existing floor, your door bottoms may rub. Plan in advance to have someone shave or saw each door so it does not drag.
Frequently asked questions.
What's the flooring buying process?
Visit us. 
Come in and see the carpet for yourself. Our team of sales associates will help you select the perfect flooring for your home. Be sure to bring furniture swatches of fabric, bedspreads, wallpaper and paint that will be in the room.
Free In-home estimate. 
Nufloors provides a free in-home measurement and estimate. This is when we determine how much flooring you'll need. We'll also review where the seams will be placed and pattern matches if applicable. 
Confirmation and preparation.
Once the quote is accepted, we will schedule and confirm the project time with you. All preparation work will be discussed in detail.
What will sales associates ask me?
Is there light or heavy traffic in this room?
What is the room used for?
Do you want a casual, formal or somewhere in between look?
Do you have children or pets?
Do you have a certain colour in mind?
Is there a style you've owned or seen that you really like
What does PetProtect mean?
Stainmaster PetProtect is a carpet and cushion system designed for pets and their people. It provides a breathable moisture barrier that helps prevent spills and accidents from penetrating the padding and subfloor.
Can I save money by buying a less expensive carpet and putting the best cushion under it?
A good cushion is important to carpet performance, but keep in mind that you walk directly on the carpet, so you want carpet constructed to meet your needs and lifestyle. If you buy a cheaper carpet that does not meet your needs, you will have a cushion that feels great, but you may not be satisfied with the look or wear of your carpet.
A carpet tuft is longer than the others, what do I do?
Snip the end of the tuft to even the carpet surface. NEVER pull a long or loose end as this can damage your carpet.
How do I prevent seeing footprints?
If you want to minimize the visibility of footprints, work with your sales associate to select a very tightly constructed carpet.  Is there a "footprint free" carpet?  Loop pile carpets, such as a berber or level loop pile do not show footprints. But they have a completely different "look" than a saxony pile.
Is Wool Carpet worth it?
Wool is making a place for itself in the market thanks to its sustainability and durability. Wool is the classic luxury carpet fibre holding some distinct qualities to differentiate it from other fibres. It is completely natural, comfortable, durable and it is even sustainable!
Although it will cost a little more and requires further care and attention than other 100% synthetic alternatives, the advantages of purchasing wool carpet will far outweigh the extra cost.
Whether for a family home or luxury accommodation,  professionally installed and maintained correctly, wool carpets should always meet or even exceed expectations.
What to do if the carpeting has a wrinkle?
A carpet installer can fix that wrinkle. Your carpeting may have stretched or pulled away from the tack strip at one side.
Why can the colour of carpet look different at home?
Lighting can change your perception of carpet colour, making it look like particular areas are lighter or darker than others. The lighting environment between a carpet retail store and your home may also vary, therefore we recommend that you take a sample of carpet and view it in your home for colour before making your final purchasing decision.
Why does my carpet look like it changes colour when I view it from different directions?
This is due to light that is reflecting differently as the pile is pushed in different directions. This can be caused by foot traffic. Vacuum the pile in one direction to alleviate this issue.
Why is my carpet shedding?
It is not uncommon for some new carpet to shed for up to 120 days. The main reason for carpet shedding is due to cut fiber left from the milling process. It is recommended that the carpet be vacuumed frequently to minimize the shedding.
How often do I need to professionally clean my carpet?
Refer to the manufacturer's recommendations as this will affect your warranty, usually every 12-18 months. Ensure you follow the guidelines and keep a copy of your professional cleaning invoice in case needed if you must file a warranty claim.
Do I need a carpet cushion?
It is essential to use a good quality cushion to ensure your new carpet's performance. Carpet Cushion – also known as underpad, undercushion, padding, cushion and underlay – is the hard working, important and often overlooked part of your carpet flooring. Not all carpet performs the same and not all carpet cushion does either.
Carpet cushion does more than cushion your carpet when you walk on it – it also does these important jobs:
acts as a buffer between the carpet and the subfloor, allowing fibers to bounce back and retain their appearance
Will feel better underfoot
keeps most common household spills from penetrating the cushion or subfloor
Adds to the useful life of your carpet
Protects your carpet investment
Makes a less expensive carpet feel more luxurious
Absorbs sounds and reduces noise
Makes cleaning and maintenance more efficient