Designed to stand up
to real life and look
good doing it.
Laminate flooring is a pet-friendly, durable floor that is easy to maintain
and affordable. Laminate floors are produced with such realistic
visuals that it can be difficult to tell if it's laminate, hardwood,
tile or stone. Perfect for active households.
The choice is yours.
Nufloors offers laminate with beautiful and realistic wood and tile visuals. A durable, easy to maintain and affordable flooring choice.
A durable, easy to maintain and affordable flooring choice.

Ideal Rooms

Entryways, mudrooms, family rooms, dining rooms, living rooms, bathrooms (water resistant laminate) and basements (installed with proper underlayment).

Benefits

Easy to maintain – Sweep, dust, or vacuum the floor regularly with the hard floor attachment (not the beater bar) to prevent accumulation of dirt and grit that can scratch or dull the floor finish.

Budget-friendly – It mimics hardwood and tile flooring but without the financial investment.

Pet-friendly – Laminate flooring is an excellent choice for homes with pets as it stands up to life's everyday demands.

Considerations

It's not hardwood – There is a wood chip base layer in laminate but it's not a hardwood floor.

Cannot be refinished – If a laminate floor is scratched or worn, it cannot be resanded/refinished as a hardwood floor can.

Lower resale value – A hardwood floor provides better value when selling your home.
To view product samples please select the Nufloors store nearest to you:
Choose a Store
Four layers of value.
Realistic Visuals
Today's laminate floors are produced with photographic images of wood, stone or tile. This makes it nearly impossible to tell that it's laminate.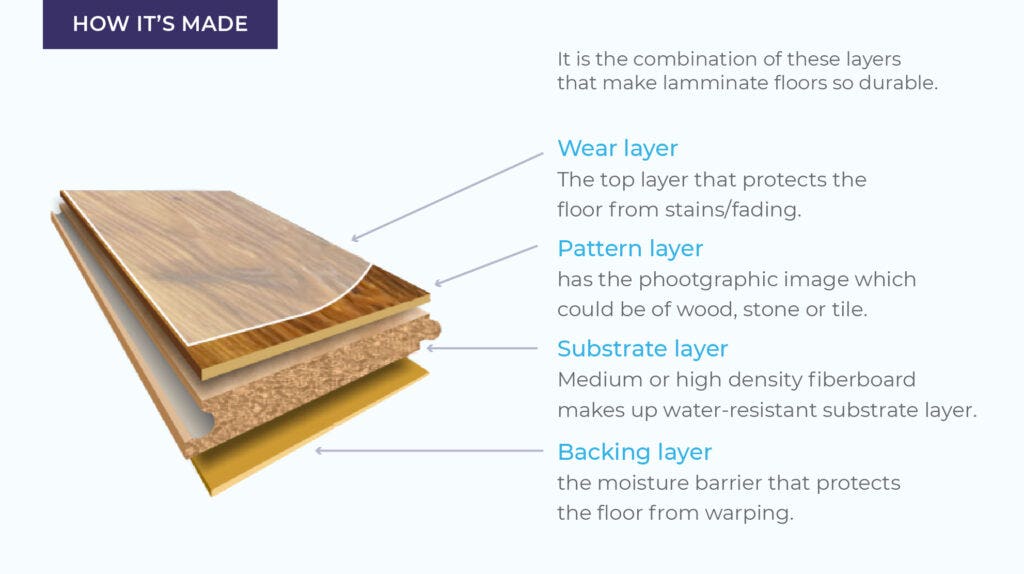 Tips to think about.
Pre Work
Depending on the existing floor covering, there this could be an additional expense if removal of your old flooring is required. Also depending on the condition of your sub-floor, additional work may be needed.
Underlay
A good underlay has to be used when installing laminate flooring. This helps soundproof the floor, protects the floor from moisture and adds warmth.
Temperature and humidity
Laminate will retain and give off moisture. Temperature, moisture and humidity all affect this type of flooring. It's important to always maintain relative humidity in your home. You can use a hygrometer to monitor moisture levels to ensure your floors won't be affected negatively.
Extra Materials
A waste factor ranging from 5-15% is typically used when calculating waste for your job. We will leave the leftover materials with you. Please keep the material in a flat, dry area for any future repairs. The leftover material is not returnable.
Accent Wall
Laminate can be installed on walls – you can create a stunning accent wall adding interest to a room. Ask about styles approved for wall installations.
Installed by us.
You'll receive your Nufloors pre-installation guide when you make a purchase in-store.
Paint
If you are planning to paint, wallpaper, or do any other remodeling in the room, try to do this before your flooring is installed. Keep extra paint to allow for post-installation touchups.
Move Furniture
Who is moving the furniture? Plan this in advance. Ensure to remove all fragile items from the room.
Remove your existing Floor
Make sure you know who is removing your existing flooring. Speak with Nufloors about this.
Check door clearances
Measure door clearances before you have your new flooring installed. If the new flooring is thicker than your existing floor, your door bottoms may rub. Plan in advance to have someone shave or saw each door so it does not drag.
Frequently asked questions.
What's the flooring buying process?
Visit us. 
Come in and see the laminate for yourself. Our team of sales associates will help you select the perfect flooring for your home. Be sure to bring furniture swatches of fabric, bedspreads, wallpaper and paint that will be in the room.
Free In-home estimate. 
Nufloors provides a free in-home measurement and estimate. This is when we determine how much flooring you'll need. We will review the room transitions and which direction the flooring will be installed.
Confirmation and preparation.
Once the quote is accepted, we will schedule and confirm the project time with you. All preparation work will be discussed in detail.
What will sales associates ask me?
Is there light or heavy traffic in this room?
What is the room used for?
Do you want a casual, formal or somewhere in between look?
Do you have children or pets?
Do you have a certain colour in mind?
Is there a style you've owned or seen that you really like
What are thickness levels for laminate flooring?
There are various thickness levels for laminate flooring which are measured in millimetres – 7, 8, 10 and 12 mm. The thicker the laminate, the more it will feel like solid wood and dampen sound.
Can I use a steam mop on my hardwood or laminate floor?
No. Steam cleaning can damage and warp hardwood or laminate flooring. Visit our Floor Care section, to locate the care guide for your floor.
What is a floating floor?
This means that it is "floating" on top of the floor underneath it, and it is not directly secured to the floor (i.e. no nails and no glue). Instead, the floating floor is held down or secured around the edges of the room – the base molding/shoe molding and transitions. A floating floor is often used if it is going over an existing floor or on top of concrete. Because the floor is floated and not secured to the sub-floor, there tends to be a bit more movement in the floor – you especially see and hear this in laminate floors and it's more noticeable if the floor is uneven or if it was poorly installed.
Do I need to use an underlay?
Yes, underlay is necessary for all laminate floor installations. It helps soundproof the floor and hides very minor deviations in the subfloor. Underlay with a vapour barrier is recommended for all below grade installation to keep the moisture away from your floors.
What does embossed, registered embossed and hand scraped mean?
Embossed
Some laminate comes with a textured finish to the surface and this laminate is called embossed. The pattern is pressed into the laminate to create a texture that makes your flooring look and feel more like real wood. However, regular embossing doesn't match exactly with the grain on the printed layer of your laminate.
Registered embossed
The process for registered embossed is the same as for regular embossed whereby a pattern is pressed into the surface of the laminate to create texture. However with registered embossed the texture follows the grain of the printed image, creating a really authentic look and feel underfoot. Innovation in the industry's technology enables each individual laminate plank to be matched with perfect precision.
Hand scraped
The surface of the laminate flooring is pressed in such a way that it creates the appearance of wood that has been scraped giving it real rustic feel. The laminate appears old and distressed which is a very popular look and your feet will feel the contours of grains and indentations.
What are the different mouldings that may be needed for my flooring project?
Quarter Round moulding is used to hide the expansion gap left around walls during installation.
T moulding is used as a threshold in doorways or as a transition strip where the hardwood flooring meets floor or carpet of similar height. T mouldings can also be used to change the direction in which the floor is laid.
Reducer moulding is used as a transition from the height of the sub-floor to the height of the hardwood floor.
Stair nose moulding is used to cover the front edge of a stair tread or step. If used on a stair, flooring is installed behind the stair nose to cover the horizontal part (the tread) of the stair.