We often get asked, 'How long should should I plan for when installing hardwood floors?'
The answer depends on a number of factors, such as the size of the project (how many rooms) and the type of hardwood floor you select. Keep in mind, every project and home are unique. However, on average it takes 7-10 days to install hardwood floor once it has arrived at your home – 7 days for acclimation of the hardwood and 1-3 days for the actual floor installation.
This information is important because installing new hardwood floors can affect your day-to-day living. To give you a better idea of what's involved, here's a breakdown of the installation process, as well as the factors that can make the installation process shorter or longer than average.
Hardwood Acclimation
Days 1 – 7
Hardwood flooring acclimation is crucial to avoid a wood flooring nightmare. This is the process of adjusting the moisture content of the hardwood floor to match the environment in which it is expected to perform in.
How do you adjust the moisture? By bringing the boxes of hardwood floor into your home and opening them, including any plastic wrap, to expose the planks to the air and humidity. The best technique to accomplish this is to lay the boxes a foot apart on the ground. Another layer can be laid on top in a cross-wise pattern.
If this step is not completed and your hardwood floor is installed when it is either drier or wetter than the rest of your home, there can be some serious consequences. If it is too dry the floor will absorb moisture from the subfloor and air, causing the planks to expand. The result, cupping and bulging of the wood. If it is too wet, it will lose moisture and dry out, causing the planks to shrink and pull away from one another. Neither is a good look!
When acclimating your hardwood floor, a minimum of 5 days is recommended, however a week to 10 days is better. To save time and to avoid any unwanted surprises, any old flooring should be removed and the subfloor should be vacuumed and inspected during this process. If any repairs or replacement of the subfloor is necessary, it is important to find out sooner rather than later.
Why it might be shorter?
Depending on the product you selected, you may not need a week or more to complete this step. Engineered flooring for example is designed to be more stable with little expansion or shrinking. In addition, your retailer may also start the process in their warehouse, which will shorten this process as well.
Why it might take longer?
Again, depending on the product of choice and your installer, solid hardwood flooring can take up to 2+ weeks to acclimate.
Hardwood Flooring Installation
Days 8 – 10
On average it takes 1-3 days to install hardwood floor. Typically, a 2-person crew of installers can lay 750 to 1,000 square feet of flooring per day, with the average size of a job being 1,000 to 1,500 square feet.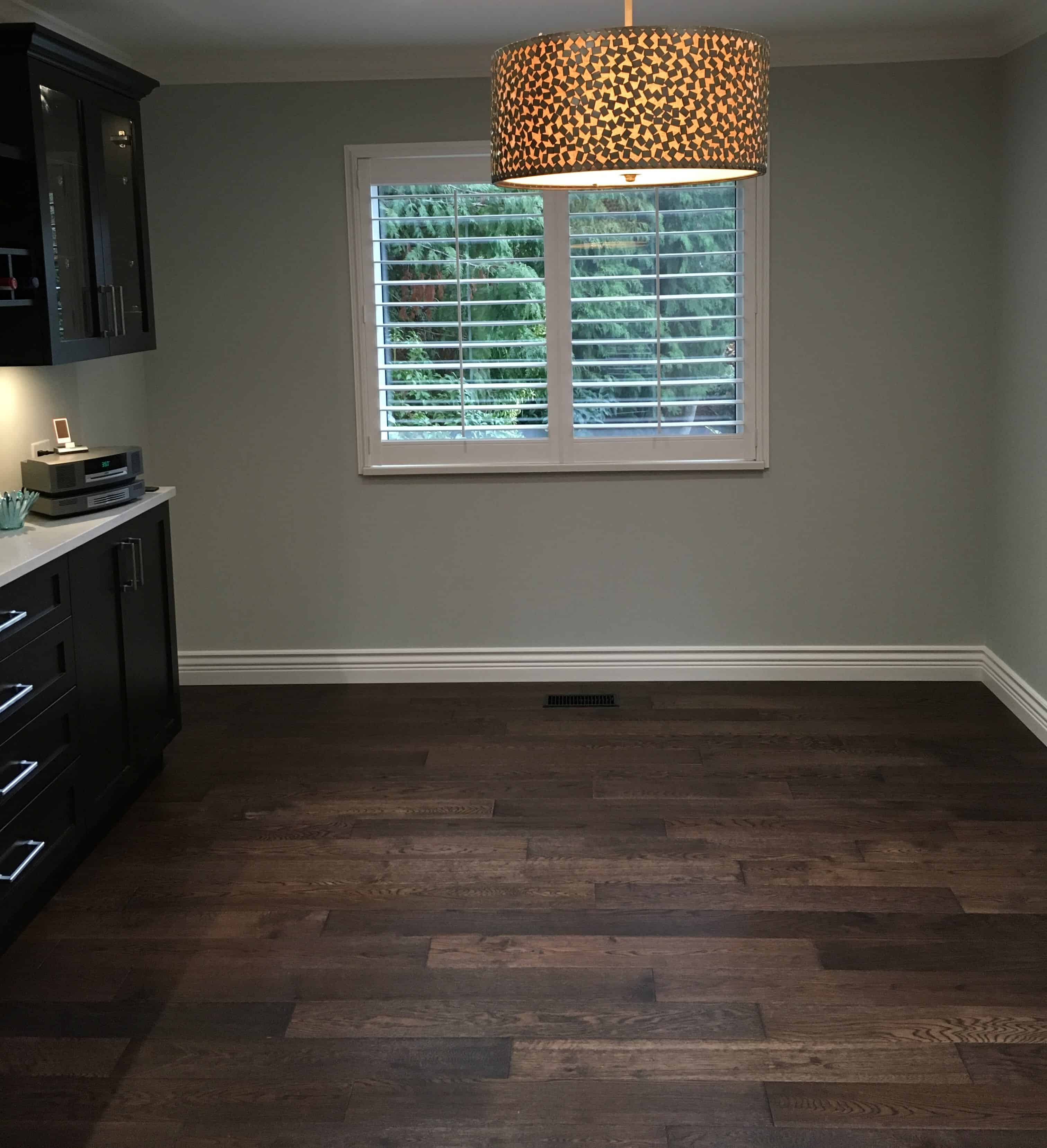 Why it might be shorter?
It will take less time to install hardwood flooring if the space is smaller than 1,000 to 1,500 square feet. Also, if the space is wide open and free of obstacles it can take less time. In this scenario, experienced installers may lay 1,500+ square feet a day.
Why it might take longer?
The size of the job plays a large factor in how long installation may take. The number of obstacles such as fireplaces, fixtures and cabinets can slow down the process, as well as staircases may take up to an entire day alone. Also, requesting a pattern such as a parquet or herringbone can take two to three times slower to install. Most important, as we mentioned above, not inspecting the subfloor in advance can add 1-2 days if there are any unwanted surprises.
Your flooring consultant will review all of this with you as your make your hardwood flooring purchase. This is all worth the effort as the end result is a beautiful new hardwood floor which will last for years.
If you have any questions about installation or are ready to get started, get in touch today! You can also read more about the pros and cons of hiring a professional in our blog post on Flooring Installation.