Timeless elegance
for your home.
Hardwood is easy to clean and maintain. It gives any space
a natural beauty which will last for generations.
The choice is yours.
Browse our hardwood types and get to know the benefits and considerations of each.
Genuine hardwood is real wood, through and through. It adds beauty, quality and value to your home.

Ideal Rooms

Family rooms, dining rooms, living rooms, bedrooms and kitchens

Benefits

Lasts a lifetime – With proper care, hardwood can last forever. Solid hardwood can be sanded and refinished numerous times.

Easy to maintain – Hardwood flooring is easy to clean. Just sweep, vacuum or wipe. Use manufacturer recommended products, that's all you need to keep your floor looking great.

Considerations

Colour change – All hardwood floors fade, darken or change shades over time.

Location – You cannot use solid hardwood in a basement. You can, however, use engineered hardwood in this space.

Humidity – Hardwood flooring in bathrooms, laundry rooms, mudrooms or homes where the humidity levels are not controlled is not recommended. Wood floors will be affected by two distinct humidity seasons: heating and non-heating. Care should be taken to control humidity levels. Solid hardwood is not recommended for a basement, due to the humidity levels that could compromise its stability.

Engineered hardwood is real hardwood manufactured in multiple layers using veneers. It provides beauty, quality and value to your home.

Ideal Rooms

Family rooms, dining rooms, living rooms, bedrooms and kitchens, including basements (below grade).

Benefits

Versatile – Engineered hardwood can be used in basements, unlike solid hardwood. It can also be installed over concrete.

Easy to maintain – Hardwood flooring is easy to clean. Just sweep, vacuum or wipe. Use manufacturer recommended products, that's all you need to keep your floor looking great.

Last a lifetime – With proper care, engineered hardwood can last forever.

Considerations

Refinishing – Engineered wood floors can be refinished at least once.

Noise – Hardwood flooring can be noisy when walking across. An area rug helps muffle the sound.

Humidity – Hardwood flooring in bathrooms, laundry rooms, mudrooms or homes where the humidity levels are not controlled is not recommended. Moisture is hardwood's enemy. Wood floors will be affected by two distinct humidity seasons: heating and non-heating. Care should be taken to control humidity levels. It can be installed on any level of the house, including the basement, and can be installed on all types of subfloors, including those equipped with a radiant heating system.  

Hybrid is the latest hardwood flooring innovation, combining the best attributes of both laminate and vinyl to create a rigid floating floor that can be installed throughout the entire home. Hybrid hardwood is made of multiple layers of materials pressed together for an extremely hard wearing floor that is water resistant.

Ideal Rooms

Family rooms, dining rooms, living rooms, bedrooms and kitchens, including basements and (below grade).

Benefits

Water resistant – The core structure makes Hybrid Hardwood the original 100% water resistant (resists water without damage to flooring), kid and pet proof. This flooring provides more rigidity, stability and comfort than glue down LVT, solid locking LVT, or laminate flooring.

Dimensionally stable – will not expand or contract.

Installation – installs over existing hard surface floors.

Considerations

Water Resistant – Enjoy the natural grown beauty of hardwood with engineered resilience. The hand formed mineral core gives you protection against exposure to moisture that will damage any other wood floor.

Reduces noise – Hybrid hardwood is a quieter floor.
To view product samples please select the Nufloors store nearest to you:
Choose a Store
The character of hardwood.
Know the difference.
There are major differences between solid, engineered and hybrid hardwood floors. The main difference is their structural composition which determines where in your home it's best installed.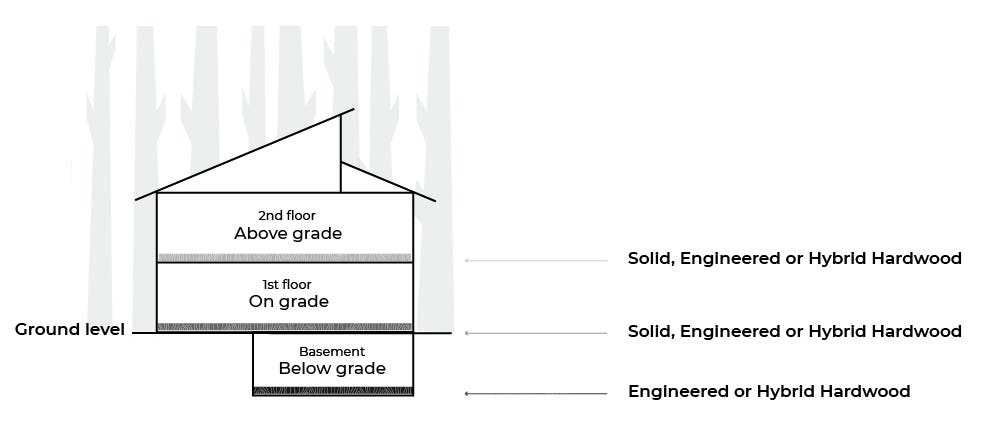 Regulate temperature and humidity.
It's important to always maintain relative humidity in your home. You can use a hygrometer to monitor moisture levels to ensure your floors won't be affected negatively.
See for yourself.
We encourage you to take hardwood samples home. Seeing a sample in your home setting is vital. View the samples at different times of the day to see how it will look in all lighting.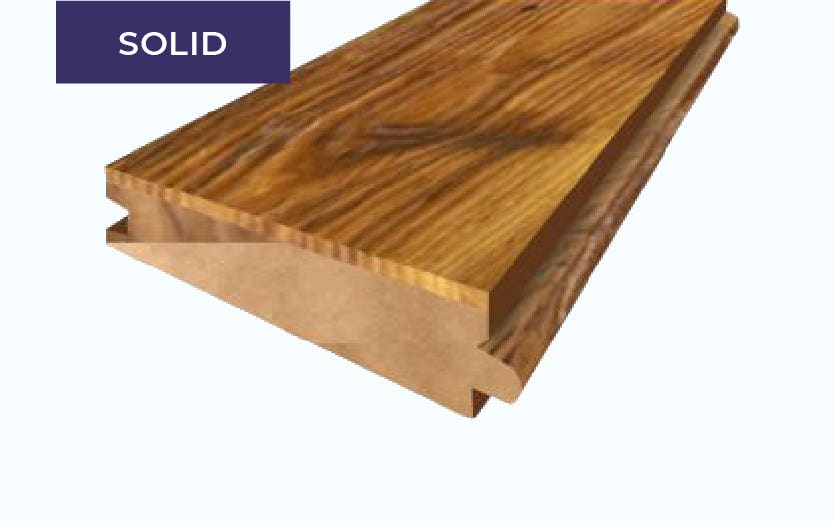 Solid hardwood is constructed from one solid piece of 100% hardwood. It is known for its durability, authenticity and timelessness. Solid hardwood can be sanded and refinished numerous times. Not recommended for below grade.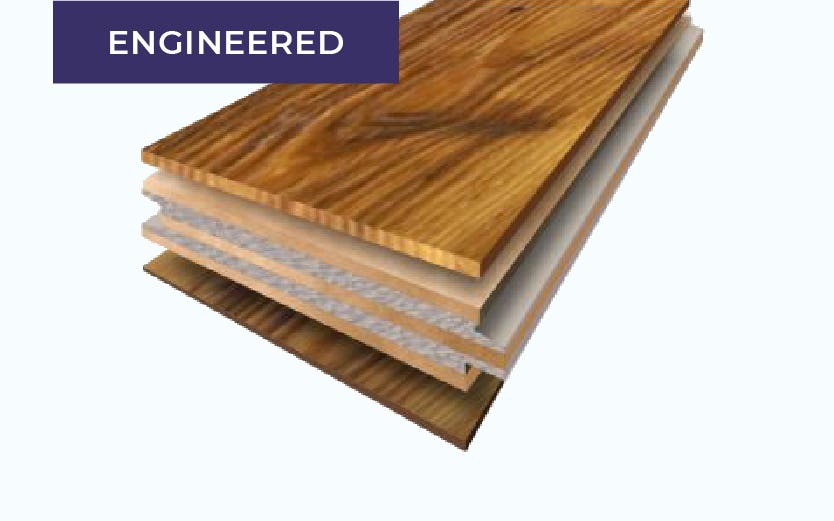 Engineered hardwood is made of layers with 100% natural wood on top, wood on the bottom, and a highly stable core in the middle. The core consists of layers pressed together in a crisscrossed pattern. It's what makes engineered hardwood less likely to shift, expand or contract when exposed to environmental changes in temperature, moisture and humidity. Engineered can be installed on, above or below grade.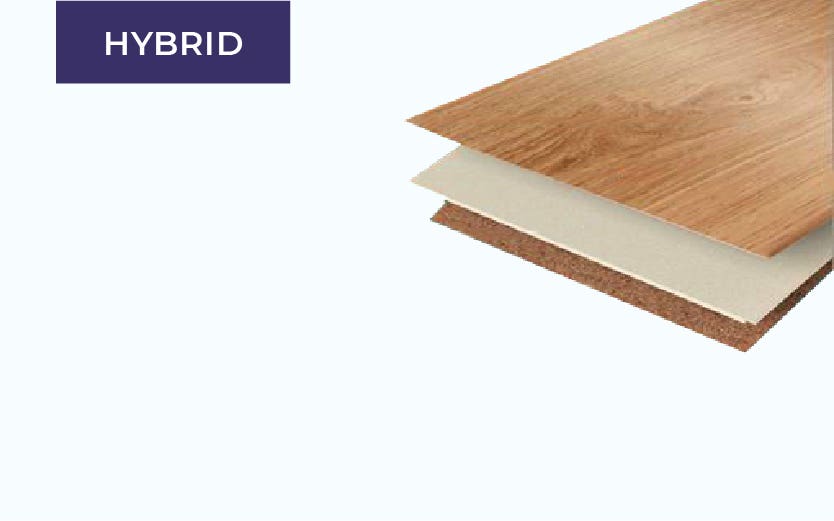 Hybrid harwood is a smart choice for home owners who want the look and feel of natural wood plus peace of mind that their floors will hold up beautifully in high-traffic or high-moisture areas. This flooring comes in a huge variety of hardwood designs, some with visuals and textures so realistic you'll think it's the real thing.
Tips to think about.
Endless choices.
Today's hardwood flooring offers you many choices in species, colour, widths, sheens and patterns. There are four finish sheens to choose from: matte, satin, semi-gloss or glossy. The glossier the floor, the more dust and dirt will show. The less sheen on the hardwood, the less you will notice dings and scratches.
Moisture Levels
Moisture levels on your subfloor/concrete floor will need to be evaluated before a hardwood floor can be installed. With a concrete floor, moisture levels must be within industry standards of the manufacturer's recommendations.
Scratches Show
Hardwood flooring will show wear and tear. By placing rugs at all entrances and throughout the rooms, you will minimize the amount of dirt being tracked into the house. Always use floor protector pads on the bottom of the legs of your furniture. If you have animals, ensure you keep their nails trimmed, keep floors free of fur and dirt and clean up accidents and spills ASAP.
Extra Materials
A waste factor ranging from 5% to 15% is typically used when calculating waste for your job. We will leave the leftover material with you. Please keep the material in a flat, dry area for any future repairs. The leftover material is not returnable.
The Janka hardness scale.
This scale provides a rating determined by the Janka hardness test that measures the force needed to embed a small metal ball into the wood. The higher the number the more resistant the wood.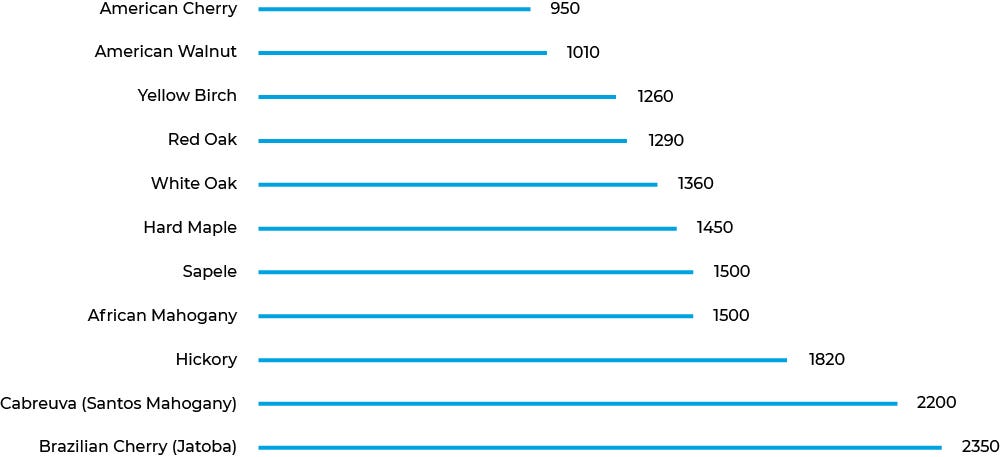 Installed by us.
You'll receive your Nufloors pre-installation guide which will outline everything you need to know regarding installation.
Paint
If you are planning to paint, wallpaper, or do any other remodeling in the room, try to do this before your flooring is installed. Keep extra paint to allow for post-installation touchups.
Move Furniture
Who is moving the furniture? Plan this in advance. Ensure to remove all fragile items from the room.
Remove your existing Floor
Make sure you know who is removing your existing flooring. Speak with Nufloors about this.
Check door clearances
Measure door clearances before you have your new flooring installed. If the new flooring is thicker than your existing floor, your door bottoms may rub. Plan in advance to have someone shave or saw each door so it does not drag.
Frequently asked questions.
What's the flooring buying process?
Visit us. 
Come in and see the carpet for yourself. Our team of sales associates will help you select the perfect flooring for your home. Be sure to bring furniture swatches of fabric, bedspreads, wallpaper and paint that will be in the room.
Free In-home estimate. 
Nufloors provides a free in-home measurement and estimate. This is when we determine how much flooring you'll need. We'll also review where the seams will be placed and pattern matches if applicable. 
Confirmation and preparation.
Once the quote is accepted, we will schedule and confirm the project time with you. All preparation work will be discussed in detail.
For more information on hardwood installation, visit our blog, Hardwood Flooring Installation – how long does this take?
What will sales associates ask me?
Is there light or heavy traffic in this room?
What is the room used for?
Do you want a casual, formal or somewhere in between look?
Do you have children or pets?
Do you have a certain colour in mind?
Is there a style you've owned or seen that you really like?
What if I have a minor hardwood scratch?
Always use the wood flooring manufacturer's cleaning, repair and finish products.
Is there a recommendation for the direction that the planks in a hardwood floor should be oriented?
Yes. The rule-of-thumb is that they should run parallel to the longest wall in the room in which the planks are being installed.
However, for any nail down or staple down hardwood floor the hardwood planks should run against the joists of the house. Any floating hardwood (non-nail down/staple down) is free to run the direction of the customers choosing.
What should I use under furniture legs?
It is recommended to use felt pads or barrel-type coasters (do not use plastic coasters) under chair legs and other furniture. The felt pads come in various sizes. Some pads stick on the bottom of the legs and others need to be nailed on. Follow the directions provided with the pads. Check and clean the pads often to prevent debris, dirt, and small particles from being trapped in the pad, which may cause scratches in the floor's finish.
How can I protect my hardwood floor if I need to move furniture?
To avoid scratching or denting your hardwood floor, it is best to lift all furniture to its desired location. Refrigerators and other heavy objects should never be moved without proper floor protection. Place them on a rug, wrong side up, and slide the rug.
Can I use a steam mop on my hardwood or laminate floor?
No. Steam cleaning can damage and warp hardwood or laminate flooring. Visit our Floor Care section, to locate the care guide for your floor.
Can I use a wet mop to clean my hardwood floor?
No. Never use a wet mop or cloth on the floor. It could be very damaging to the wood. Water will flow down between slats, penetrate the wood, and stain it black. At worst, it will lift the coating, causing it to peel away.  Always use a damp mop or cloth only.
Can I use wax, oil-based detergent, or any general-purpose household cleaner to clean my floor?
No. Never use wax, oil-based detergent, or any general-purpose household cleaner. These can dull or damage the finish, leaving a greasy film and making the floor slippery or tacky and more difficult to clean properly.  We recommend using the manufacturers cleaning products.
Can I replace one damaged board?
Individual boards can be replaced without having to remove the entire floor, which is why we suggest keeping leftover wood in case you need it.
How often should I vacuum my hardwood floor?
In general, vacuuming or sweeping twice a week to remove dust and abrasive dirt is optimal for best results. However, the frequency depends greatly on your lifestyle such as having animals, children, or a lot of traffic.
What is the difference between Hardwood flooring and Luxury Vinyl Tile?
A hardwood floor is made of real wood, while an LVT floor is made of vinyl that imitates the appearance of other types of flooring such as hardwood, ceramic, stone, or concrete.
Should I put light or dark hardwood in my home?
Both are great options. A dark hardwood floor offers a traditional look. Light coloured walls blend well with a dark hardwood floor. While dark colours can make a space look a bit smaller, it is important to remember that the floors are just one element of the room, and the colour of the walls has a much bigger impact on space perception. Light hardwood makes the room appear larger and adds to the brightness of a room which can be matched with a vibrant paint colour. Bonus – light hardwoods tend to show less dirt than dark hardwood floors. It is a good idea to see the samples in your own home and lighting as they do look different there vs. the store (lighting has a huge impact). And, you will want to look at the sample vs. your furniture, cabinets, and paint colours.
Which shows scratches more – dark or light hardwood?
All hardwood dents and scratches, but dark hardwood tends to show the scratches more. The primary reason for this is that most wood floor species are light and if you scratch through the dark coloured stain, it shows more of a contrast with the wood underneath vs. a lighter coloured floor. The lighter your wood floor is, scratches and dust will be less visible. Consider choosing a hardwood floor with a lot of character to hide scratches.
What types of hardwood are best for homes with pets?
Consider distressed hardwoods.  It shows the scratches and dents less because that is how the wood is designed – if dented it looks like it fits right in. Likewise, hardwood that has more knots and character marks will hide the dents and scratches more. Woods with stronger graining are better for hiding the scratches. Oh, and try to keep your dog's nails trimmed.
Can a hardwood floor be used in high traffic areas and kitchens?
Hardwood flooring can be used in both high traffic areas and kitchens. Kitchens have become popular for hardwood as family rooms became a significant part of home design. There is a concern with kitchens due to is closer proximity to water (dishwashers and sinks) due to the damage that water can do to hardwood. This can be be addressed by not running your dishwasher and leaving your home or cleaning up spills immediately. The main concern is to not to have any standing water on your hardwood floor. It is recommended to have mats in your kitchen high traffic areas to help reduce dents or scratches caused by day to day activities.
High traffic areas are generally less of a concern as in most homes shoes are removed at the front door. The finish on you floor is designed to take on heavy traffic as long as debris is left with your footwear.
What are the different mouldings that may be needed for my flooring project?
Quarter Round moulding is used to hide the expansion gap left around walls during installation.
T moulding is used as a threshold in doorways or as a transition strip where the hardwood flooring meets floor or carpet of similar height. T moldings can also be used to change the direction in which the floor is laid.
Reducer moulding is used as a transition from the height of the sub-floor to the height of the hardwood floor.
Stair nose moulding is used to cover the front edge of a stair tread or step. If used on a stair, flooring is installed behind the Stair nose to cover the horizontal part (the tread) of the stair.
Your Nufloors Sales Associate will work with you on the appropriate mouldings needed for your project.
What is an acceptable humidity level for hardwood floors?
Care should be taken to control humidity levels within the 35-55% range. During dry seasons, a humidifier is recommended to prevent excessive shrinkage in hardwood floors due to low humidity levels. During wet seasons, proper humidity levels can be maintained by use of an air conditioner or dehumidifier. Avoid excessive exposure to water which can happen when tracking water indoors during periods of inclement weather.
Why have gaps appeared between the planks of my floor that weren't there before?
Typically, 'gapping' occurs when the humidity in the house falls below the recommended level. This causes a drying of the floorboards that results in slight shrinkage, creating gaps between the boards. You will often see this in the winter, especially in houses with dry heat. One way of mitigating the situation is to increase the humidity in the home.
Should I have a humidifier in my home if I have hardwood flooring?
That depends on the climate where you live and type of heating you use in your home. In more temperate climates with variable humidity they aren't really required, but in cold, dry regions where homes are heated in winter, humidifiers can be  helpful.
What is the Janka hardness scale?
The durability or 'dent ability' of hardwood is often expressed in terms of its Janka hardness. The higher the number on the scale, the harder and more scratch resistant a wood is. The test uses a 2″ x 2″ x 6″ piece of wood and a 0.444″ steel ball to determine how hard the wood is. The test figures out how many pounds per square inch, or PSI, of force is needed to push the steel ball halfway into the wood plank. Use the Janka rating to gauge the hardness of the wood as an indicator of how well the wood will be able to stand up to furniture, pets, children, and everyday life.
What is Wire-Brushed Flooring?
Wire brushing a floor involves brushing the wood with large rotary wire brush causing the wood grain to open up resulting in a two-toned look and a unique texture. Not all wood species are suitable for wire-brushing, the most common species is oak, both red and white. A textured hardwood offers many practical benefits as it is a lot more forgiving than smooth surfaces to the hazards of everyday life. Kids rough-housing and pets can damage a smooth hardwood floor.