Winter is fast approaching. This means it is time to get your home ready for some cozy winter nights. Decorating not your thing? Don't worry. These 5 winter decor staples are not only easy to incorporate, but they won't break the bank either! Create a cozy retreat to bring your whole family together on those chilly winter days.
1. Throws
Fall and winter is all about layering and using different textures to create a comfort and warmth. Nothing says cozy quite like snuggling up on the couch under a warm throw, surrounded by soft pillows. Don't forget about your bedroom! You won't want to leave your bed in the morning with the extra comfort of fuzzy blankets and quilts.
Throws are a staple in today's décor trends, so when you are shopping around for the perfect piece for your design, your options will be endless. To decide what to get, you'll want think about your own personal style. Do you prefer boho chic, farmhouse, or mid-century modern design? Understanding your own style will help you sort through the massive selection of throws on the market today. Keep your eye out for blankets that are 100% wool or cotton, and have a bit of weight to them when you pick them up. The weight adds to your comfort factor!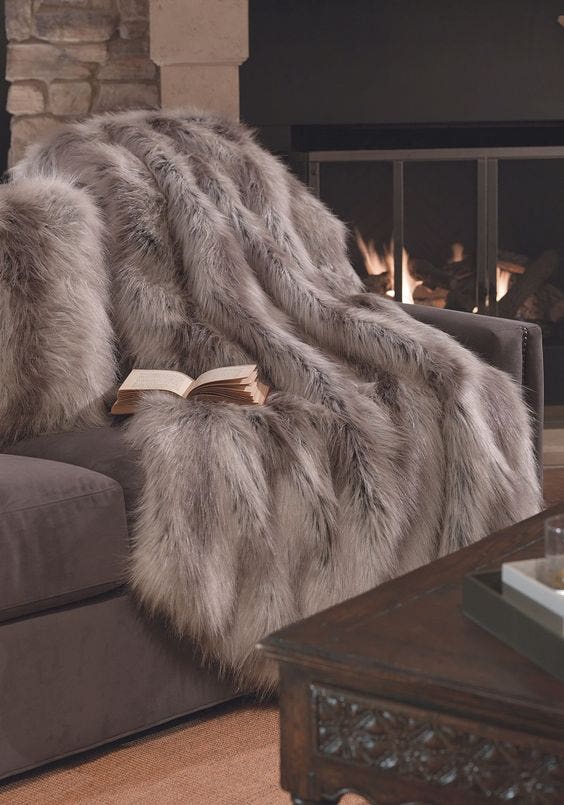 2. Accent Pillows
Accent pillows are another staple in the design World and whatever can be said for blankets, the same goes for accent pillows. With every season comes the opportunity to update your space with some new accent pillows. Winter is no exception! Seasonal changes are a great excuse to indulge yourself and buy new items you may have had your eye on. Decorating in the winter is all about creating a cozy and comfortable space so consider adding textures like Mongolian fur or sheepskin pillows for added warmth. You can create a space worth hibernating in, by using oversized 24" pillows and the increasingly popular large floor cushions to lounge on.
3. Rugs
If you have anything other then carpet on your floors you will definitely want to incorporate a rug into your décor this season. Take the chill off of the bare floors and give your toes the relief they need! Aside from keeping your toes and feet toasty, incorporating a rug is also a great way to add more colour or pattern to your décor. A big trend right now, especially for the colder months, is to layer two or more rugs. A great way to accomplish this look is by adding a large jute fibre area rug under a cowhide rug. Not only are you keeping your feet warm, both rugs add a natural and organic feel to the space.
4. Window Treatments
The one common goal of winter decorating is to defend against the elements. And what better way to do this than by sprucing up your windows? Traditional window blinds just don't cut it when it comes to keeping the warm air in and cold air out, which is why you want high-quality, thick curtains. Similar to throw blankets, you want your curtains to have weight to them, none of that light sheer stuff! For added insulation and warmth make sure to use a curtain lining. This will keep things nice and toasty. Aside from the practical reasons for having curtains, you can not overlook the aesthetic appeal. With the perfect colour, texture and pattern, there is no end to what curtains can do for your winter decorating.
5. Lighting
Day light savings has come and gone leaving us with shorter days and less natural light. Because of this you will notice your lights working overtime compared to in the warmer months. You will want to complement your basic overhead lighting with smaller table and floor lamps. The basic rule of thumb when it comes to lighting is to include at least one of each type of lamp: an overhead fixture, a table lamp, a floor lamp and a task lamp. You will likely not use all of these at one time but it gives you a lot of options and ensures all of your lighting needs are covered. When days are grey and we're snowed in, good lighting will help your room feel warm and inviting.
Looking for more design inspiration for the colder months? Check out or blog posts Cozy Floors for Winter and Easy Ways to Decorate Your Home This Fall.