Luxury vinyl flooring, also known as LVT (luxury vinyl tile) or LVP (luxury vinyl plank), has become an increasingly popular flooring option for both residential and commercial spaces. One of the reasons for its growing popularity is the development and advancements in technology of luxury vinyl and in particular, the locking systems. These systems make it easy to install luxury vinyl flooring and provide a secure and stable base for the flooring. Although on the surface it may all look the same, choosing the right locking systems for your needs and lifestyle will ensure your investment and new floors last for years.
Because there are various types of locking systems on the market, it is advisable to consult a flooring expert to ensure the locking system you choose is best suited for your specific needs.
Click-Lock System
The most common type of luxury vinyl locking system is the click-lock system. This system consists of a tongue-and-groove design that allows the planks or tiles to click together securely. This makes installation quick and easy, as the planks or tiles simply need to be locked into place – fitting together like a puzzle piece. This system is perfect for DIY installations.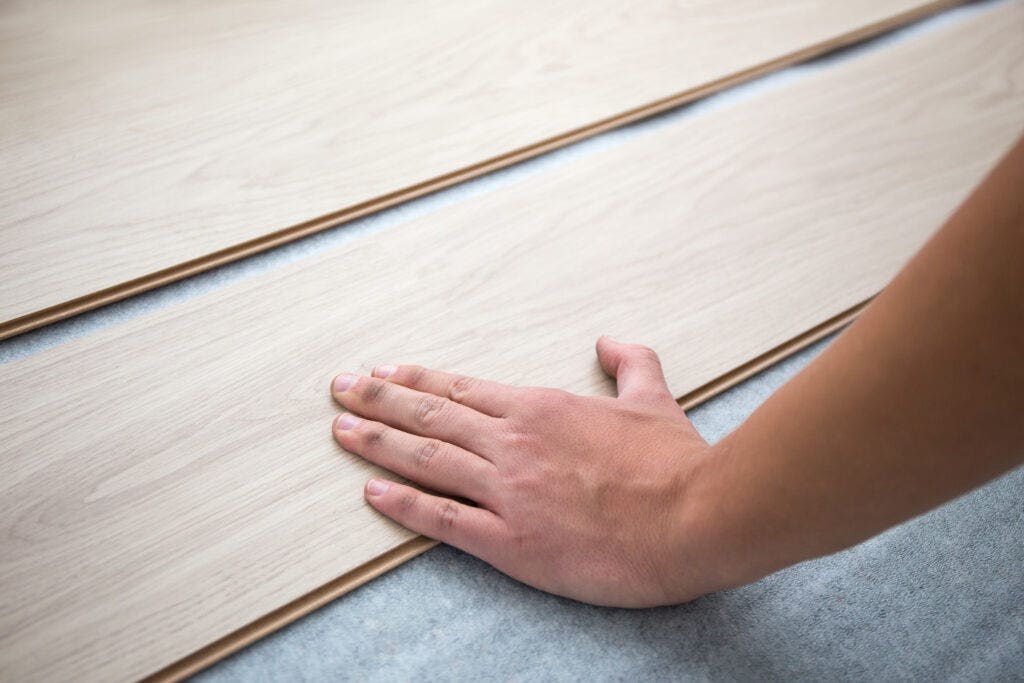 Pros
DIY Friendly: Significantly easier to install and can be done by almost anyone – no special tools or skills are required.
Cost Effective: Again, no special tools or adhesive required and if you are doing it yourself, no need to worry about installation costs.
Versatile: Click-lock vinyl can be used in a number of different settings to suit your needs and is available in a variety of different colours and styles to suit your preferences.
Removal: It is very easy to remove at the end of its lifecycle as it is not adhered to anything and does not require any special tools.
Cons
Not Waterproof: Most vinyl planks these days are waterproof or water-resistant, if yours is neither, moisture can seep through the edges and cause damage. Not recommended for bathrooms or other areas that water is likely to be present.
Repairs: It's not as easy to remove and replace a single plank without affecting the surrounding planks. This can make repairs more time-consuming and complicated.
Comfort: Compared to the other locking systems, if your vinyl does not come with a pad already attached, it is not as warm and comfortable underfoot, however, to make it a little cozier, you can add an underpad. Check with your retailer to ensure adding an underpad is acceptable for the product.
Glue-Down System
Another type of luxury vinyl locking system is the glue-down system. There is no locking mechanism between the planks or tiles, each piece is merely butted up to the adjacent piece. This system requires the use of adhesive to secure the flooring in place. While this method can take a bit more time and effort than the click-lock system, it is a more permanent option and is recommended for heavy traffic areas or commercial spaces.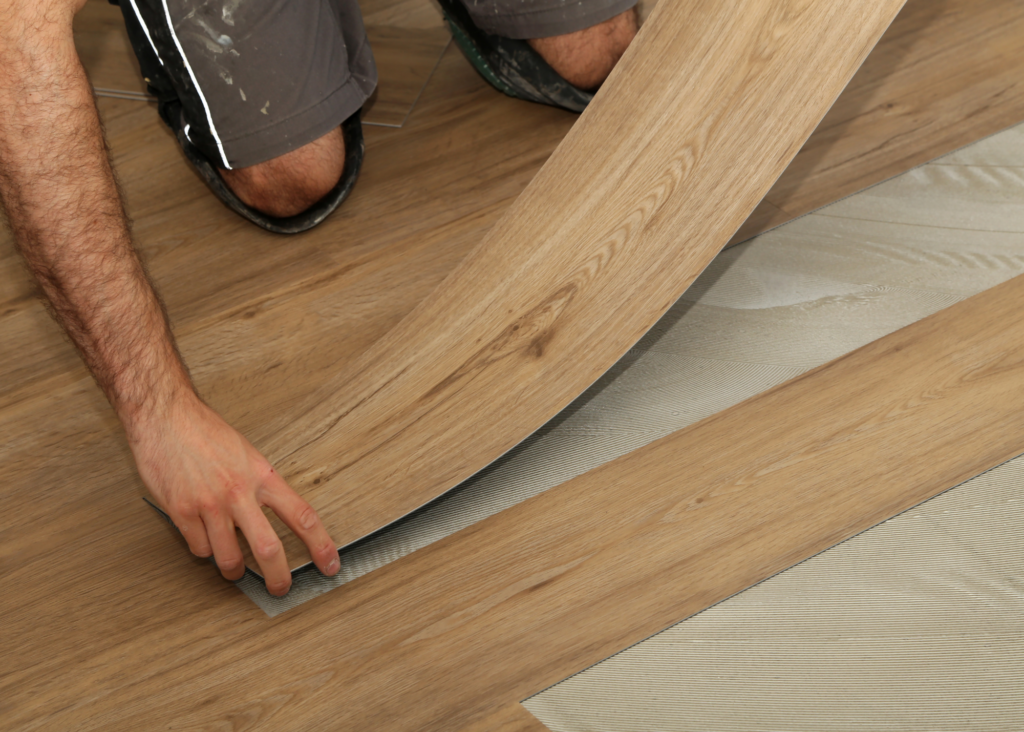 Pros
Durability & Stability: Because the floor is adhered to the subfloor, it is less likely to move and become damaged over time. The glue adhesive creates a strong bond that is resistant to moisture and wear and tear.
Water Resistant: The glue down method creates a seal between the subfloor and the luxury vinyl making it more resistant to water damage.
Noise Reducing: There are specific glues that create a sound-deadening barrier between the luxury vinyl and subfloor so there is less noise transmission between floors.
Cons
Installation: Glue down luxury vinyl requires the use of special tools, adhesives, and skills, which can make the process more costly, time consuming and messy.
Cost: There is an additional cost for the adhesive that is required. Additionally, it will take longer because there is the extra step of putting the glue down.
Ease of Removal: Removing glue down vinyl is not as easy being adhered to the subfloor. It can require special tools and there is a chance your subfloor may be damaged.
Subfloor Prep: If the subfloor is not properly prepped, the adhesive may not bond properly and the floor may become loose over time. Also, luxury vinyl that is installed over an uneven substrate will "telegraph" any unevenness or imperfections in the substrate.
Floating System
The floating system is another luxury vinyl locking system. In this method, the planks or tiles are not attached to the subfloor but are placed over a foam underlayment and they simply "float" on top of the surface.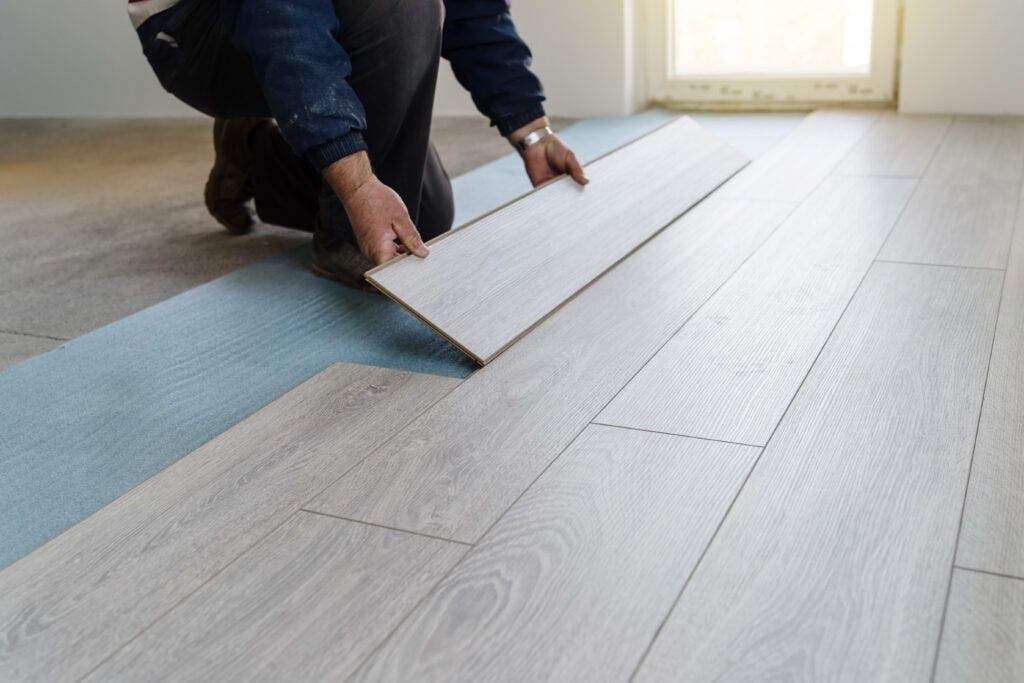 Pros
Easy to Install: Another great DIY option. Installation can be done relatively quickly and easily.
Affordability: No special tools or adhesives are required and if you are handy and can do it yourself, you can save on installation costs.
Low Maintenance: Great for busy homes because it is easy to clean and requires very little upkeep.
Comfort: The floating system is softer and more comfortable underfoot making it perfect for those areas of the home that you spend a ton of time in.
Cons
Expansion & Contraction: Floating luxury vinyl has a tendency to expand and contract with changes in temperature and humidity. This leads to there being gaps in between planks, which is not only an eye sore, it allows dirt, debris and moisture to accumulate.
Noise: Floating floors can produce more noise than other systems when it is walked on. This is because the planks are not attached to the subfloor and will move slightly with each step. The higher-traffic areas will be the areas of concern when it comes to noise. Luxury vinyl with an pad attached will help reduce much of that noise.
Subfloor Imperfections: A sound and level subfloor is needed when installing a floating luxury vinyl floor to ensure the planks lie evenly and do not become misaligned.
With all vinyl plank flooring, regardless of the type of installation, it is important to follow each manufacturer's specifications on substrate requirements to ensure your floor looks its best, performs to expectations and that you maintain the manufacturer's warranty. If you have questions about luxury vinyl locking systems or installations, we're here to help! Stop by a Nufloors location near you or contact us online today.