Engineered hardwood is a popular choice amongst homeowners and builders thanks to its unique combination of natural beauty and enhanced durability. In this guide, we will dive deep into what engineered hardwood is, the advantages & disadvantages, compare with other flooring options and cover why Nufloors is your go-to destination for not only top-notch selections but also quality installation.
What is Engineered Hardwood
According to National Wood Flooring Association, engineered hardwood can be described as,
"Engineered wood flooring is real wood from top to bottom. Normally made using multiple wood veneers or slats of wood glued together at opposing directions."

NWFA, 2018
It is an innovative flooring option that combines real hardwood on the surface with multiple layers of plywood or high-density fiberboard (HDF) beneath. The top layer, which is made from authentic hardwood is referred to as the veneer and can be made from a wide range of wood species, while the lower layers, again made from plywood or HDF, add structural stability and strength. The design of engineered hardwood makes the floor less susceptible to expanding and contracting due to humidity, making it a more suitable option over solid hardwood for various environments.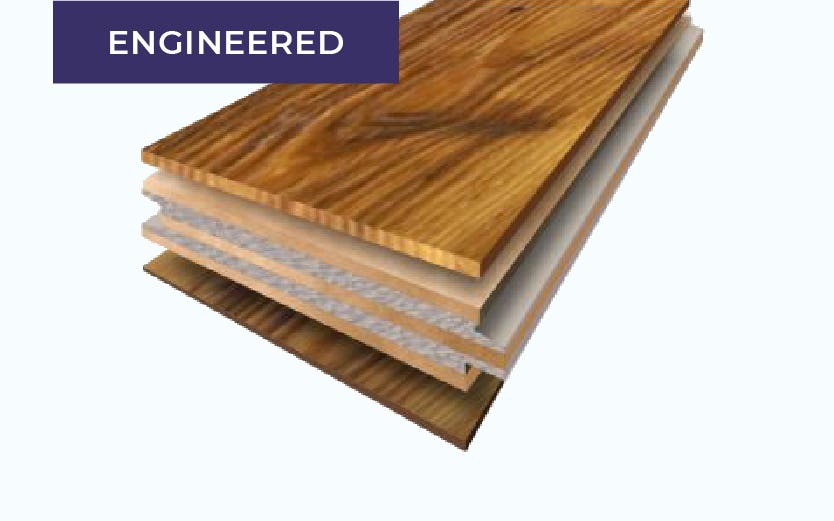 Comparisons to Other Types of Flooring
Engineered Hardwood Vs. Luxury Vinyl
While both options are great, they very much cater to different needs and preferences. If you are seeking the authentic charm of natural wood floors, engineered hardwood is the way to go! It provides a warm and inviting atmosphere that exudes a sense of luxury and sophistication. As well as for those environmentally conscious consumers, engineered hardwood is the eco-friendlier option as it is made from renewable resources and will last for many more years if properly maintained.
Luxury vinyl is a great alternative to engineered hardwood because it is virtually impossible to tell the difference these days. Thanks to technology, vinyl planks look and feel like real wood more and more each day. It is a more budget-friendly option especially for water-prone areas.
Engineered Hardwood Vs. Solid Hardwood
Both engineered and solid hardwood offer the elegance and allure of natural wood. The difference between the two is their composition. As mentioned earlier, engineered hardwood is made up of multiple layers of plywood, HDF and wood veneer, while solid hardwood is made from one single piece of wood. This makes solid hardwood more susceptible to moisture related issues such as cupping or warping. Engineered hardwood is designed to have superior stability in these same areas so it is more suitable for a broader range of applications, including below grade installations.
Proper site conditions, such as humidity and temperature, still need to be maintained when installing engineered hardwood as this will allow the flooring to perform properly.
Engineered Hardwood Advantages
Enhanced Durability: Resistant to warping and cupping in moisture prone areas and remains stable in changing climates. Also can live up to the everyday wear and tear of a busy household.
Wide Range of Styles: Wood floors are available in various species, textures, finishes, and colours to suit your preferences and lifestyle needs.
Affordability: Engineered hardwood generally is less expensive than solid hardwood flooring because less of the actual hardwood is used in the construction of the floor, allowing for a higher yield of end product from the same about of raw material.
Engineered Hardwood Disadvantages
Limited Refinishing: Unlike solid hardwood, which can be sanded and refinished as many times as need, engineered hardwood has a limited number of refinishes depending on the thickness of the top veneer layer.
Scratches: Although engineered hardwood is more scratch-resistant than solid hardwood, accidents can still happen, so it is advised to use felt pads on furniture legs and avoid dragging heavy items across the floor.
Nufloors: Your Ultimate Flooring Destination
We take pride in offering a premium collection of engineered hardwood flooring options to suit your style and budget. With a wide range of wood species, finishes, and colours to choose from, the experts at Nufloors will ensure that you find your perfect match.
Ready to upgrade your flooring? Contact Nufloors today to explore our wide range of engineered hardwood options and schedule a consultation with our experts. Transform your space with the timeless beauty and durability of engineered hardwood flooring.