There are a handful of areas in our home that experience a lot of foot traffic and those areas, if the proper flooring isn't selected, will start to show wear and tear. As a homeowner, you want to protect your investment and choose a floor that not only suits your needs but will look amazing for years to come.
We are going to share the three best flooring options for high-traffic areas but before we get into those, there are four important factors to consider aside from personal style preferences:
Durability: Foot, paw and other traffic will leave your floors with scratches and marks, so choosing a floor that is scratch & stain resistant will help keep your floor looking new and not worn out.
Low Maintenance: Regular cleaning will need to happen in high-traffic areas, so choosing something that is easy to clean and maintain will extend the life of your flooring.
Water Resistant or Waterproof: Kitchens, entryways, mudrooms, and bathrooms are areas that are prone to moisture so a waterproof or at the very least, water resistant flooring is recommended. You don't have to worry about stains or warping!
Comfort & Warmth: Choosing something that is soft and warm underfoot is important in our Canadian climate. It is also important to think about the utility of the space. For example, durable floors such as tile are not only cold on the feet but also hard underfoot, which can make it tough on the body when standing for several hours. Therefore, installing tile in the kitchen may not be the best solution where one needs to stand to prep and cook food.
1. Laminate
Laminate is a hard-working floor that is durable, easy to maintain, comfortable underfoot and available in beautiful realistic visuals. It is ready to take on the challenges of a busy household and high-traffic areas.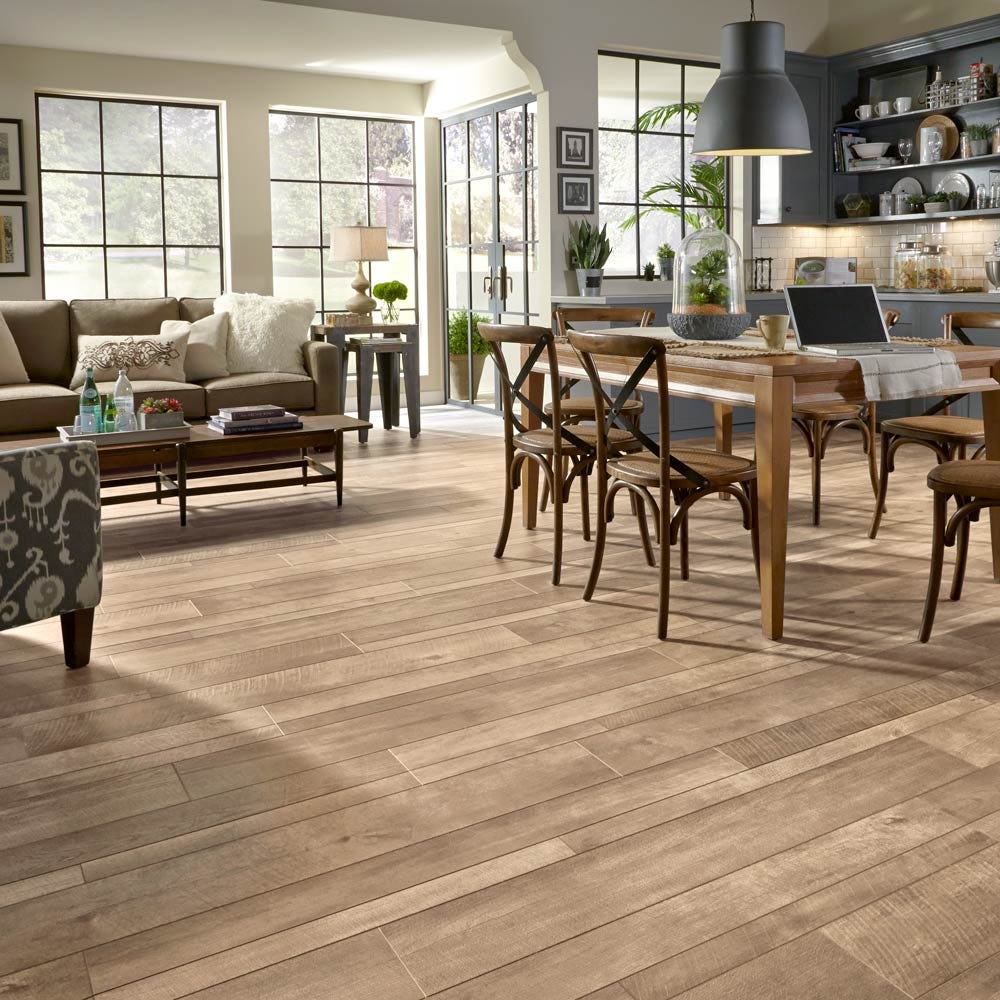 Durability: Laminate has a wear layer that protects it from stains and fading. Laminate's durability is also measured using the AC rating. For residential high-traffic areas, a laminate with an AC3 rating is best suited for the job.
Maintenance: Laminate is easy to care for – simply sweep, dust or vacuum the floor regularly.
Water Resistant: If you will be installing laminate in a moisture prone area, make sure you select a water resistant or waterproof option as laminate will swell when exposed to water.
Comfort & Warmth: Laminate has a "bounce" to it that makes it softer underfoot and easier on our joints than other flooring options. It will also hold heat better than a tile would, which helps warm a space and reduce heating bills.
2. Luxury Vinyl
Install luxury vinyl anywhere in your home where you need a waterproof or water resistant option. It is easy to maintain and stays looking new thanks to its stability & durability. Best of all, it is soft underfoot and compatible with radiant heating for even more comfort!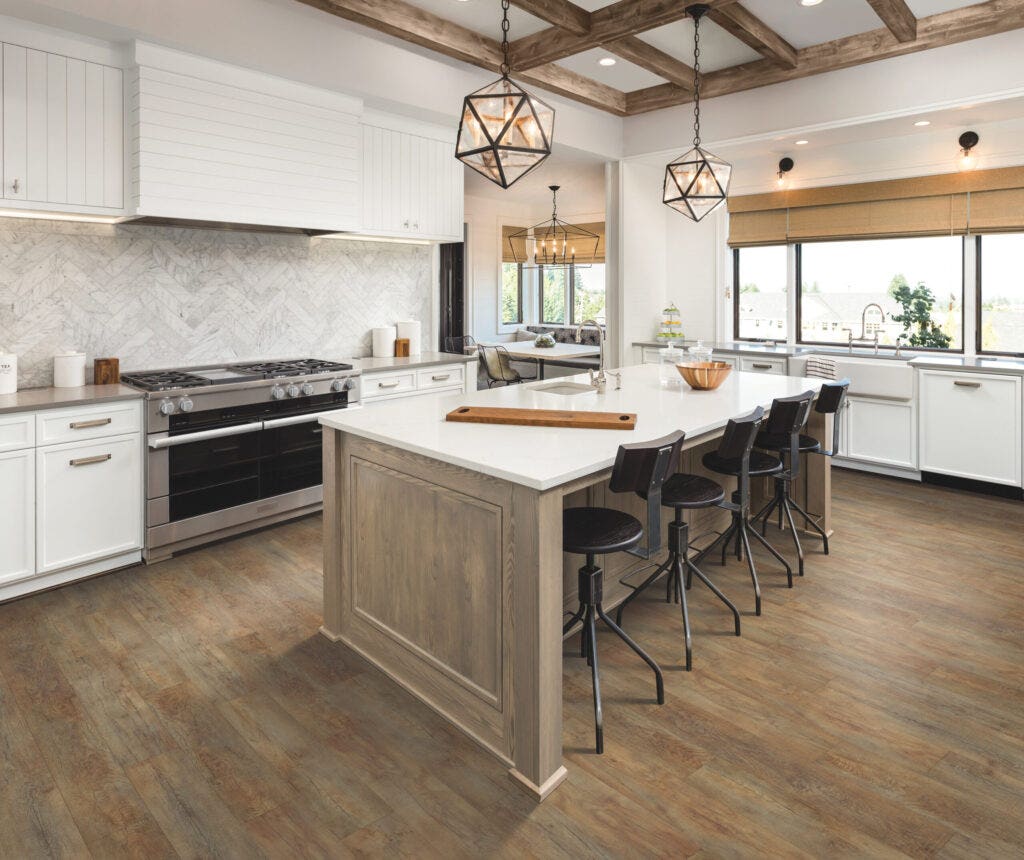 Durability: Luxury vinyl is also designed with a wear layer that helps protect it from stains, dents and scratches.
Maintenance: Another easy to care for flooring. All you need to do is sweep or vacuum and occasionally wash it using manufacturers recommended cleaning products.
Water Resistant & Waterproof: While there are now a ton of waterproof and water resistant luxury vinyl's on the market, you should not assume all are. If water is a main concern, make sure to let your salesperson know and they will recommend the best option.
Comfort & Warmth: Luxury vinyl has some flex which helps absorb the force and making it softer underfoot. You can also install radiant heating for added warmth on the toes.
3. Tile
Tile is the most durable and waterproof option, perfect for entryways or moisture prone areas. Plus, it is easy to clean and maintain. The downside to tile is that it is hard to stand on for extended periods of time and doesn't add warmth underfoot, unless installed with radiant heating.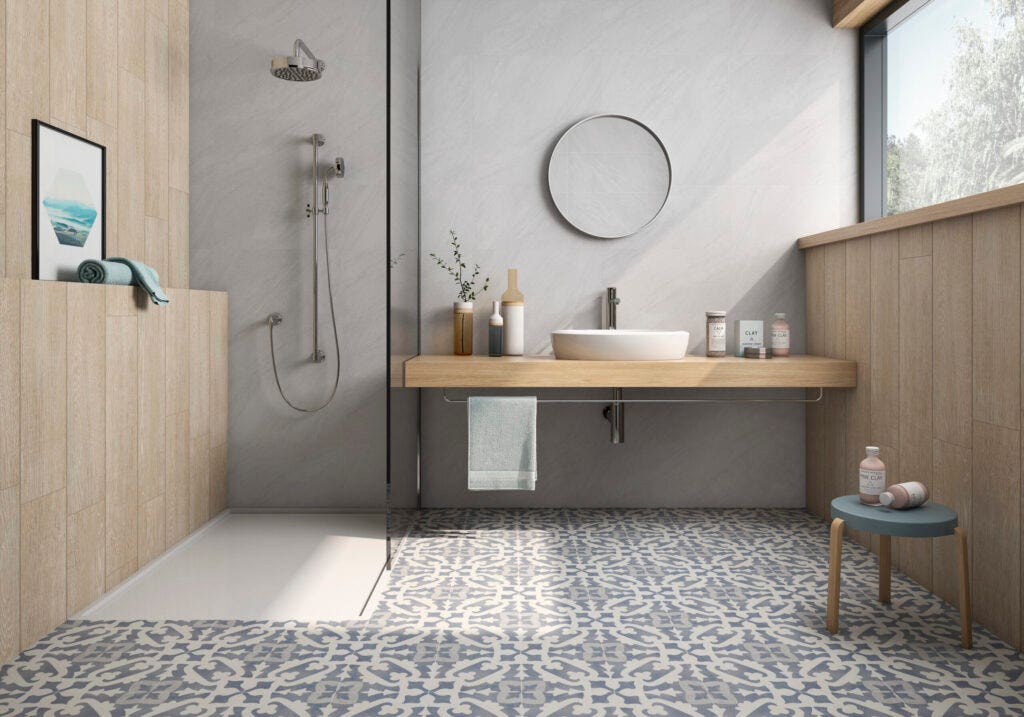 Durability: Tile is the most durable floor on this list in terms of being scratch and stain resistant. The downfall is it can chip if a heavy object is dropped on it.
Maintenance: The tile themselves are also easy to keep clean – the only challenge for some is the grout. Regular cleaning will help keep your tile looking new as well as selecting the right grout colour for your lifestyle and design preferences.
Water Resistant & Waterproof: Tile is the original waterproof flooring, which is why we see it in a lot of bathrooms. No need to worry about moisture or spills.
Comfort & Warmth: Because tile is so durable and hard, it is the least comfortable underfoot and the hardest on our body and joints. Therefore, it may not be the best option for spaces that you spend a lot of time on your feet. Also, if having warmth underfoot is important, you may want to consider installing radiant heating as tile will be cold on your toes in our cooler climate.
Still can't decide on the right flooring for your high-traffic areas? We can help! Contact us today for a free estimate, or stop by one of our showrooms to speak to a flooring expert.