You have surely walked on luxury vinyl without even realizing it. Luxury vinyl is one of the hottest trends in the flooring industry and for good reason. Whether you want to update to your basement, spice up your kitchen, bathroom or laundry room, or are tired of replacing the flooring in your rental property, luxury vinyl is a great choice. Many designers, home owners and property managers have turned to luxury vinyl because of the great benefits it has to offer.
Benefits
Huge selection of sizes, shapes and styles ~ everything from distressed wood, tile and stone, to woven fabric patterns
Luxury vinyl tile is now so realistic that with the naked eye it is almost impossible to tell the difference between vinyl and real tile
Only a fraction of the cost of wood or stone and less expensive to install
Can be grouted making for a very elegant look
Extremely easy to clean and is water resistant
Scratch, dent and stain resistant ~ built to withstand commercial and high traffic areas
Luxury vinyl is much different than the sheet vinyl that was popular in the past. It is a little thicker, making it more comfortable, warmer and better for reducing noise. Because luxury vinyl comes in tile and plank, you are given so much more freedom to be creative. You no longer are limited to one pattern on your flooring. Instead you have the ability to mix and match. You can even mix and match different grouts. Since luxury vinyl is so easy to install, it also allows you to swap out a tile or plank if one becomes damaged. This can be a huge cost saver and it's one of the reasons why luxury vinyl is very popular for rental properties. As a flooring company, we use luxury vinyl in some of the highest traffic areas of our showrooms. Stop by your nearest Nufloors location and take a look for yourself!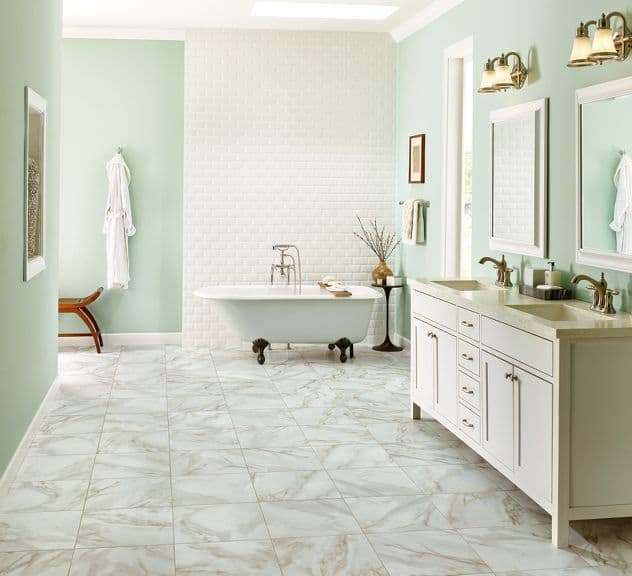 Photo: Armstrong Luxury Vinyl: Alterna: Rossini Marble Gray Mist Flooring