Thanks to recent developments in manufacturing and printing technology, hardwood isn't the only option on the market if you desire the look of hardwood in your home. Luxury Vinyl is a popular alternative to hardwood, it is designed to mimic the look of real wood and has come a long way in recent years. It can be hard now a days to tell the difference between the real thing and luxury vinyl. There are also beneficial characteristics of luxury vinyl that natural hardwood floors can not offer. Alternatively, there are characteristics of hardwood that no manufacturer can fully duplicate. To help you understand the differences and decide which product is best suited for your home and needs we have compared the two, hardwood versus luxury vinyl.
Durability & Life Cycle
Hardwood: Hardwood floors can last for generations if it is properly maintained and cared for. The type of wood species will determine how durable and resistant your flooring is. Some species are extremely hard and will resist more damage than others. Also, different treatments can be used to reinforce the strength of hardwood. The amazing thing about hardwood is that if it does happen to get damaged or wear over time, it can be repaired or refinished, making it look like new again.
Luxury Vinyl: Luxury vinyl has an invisible wear layer which protects the surface of the vinyl. The thickness of the wear layer therefore determines the longevity and durability of the floor. Manufacturers on average will warranty luxury vinyl for 10-20 years.
Moisture & Water Damage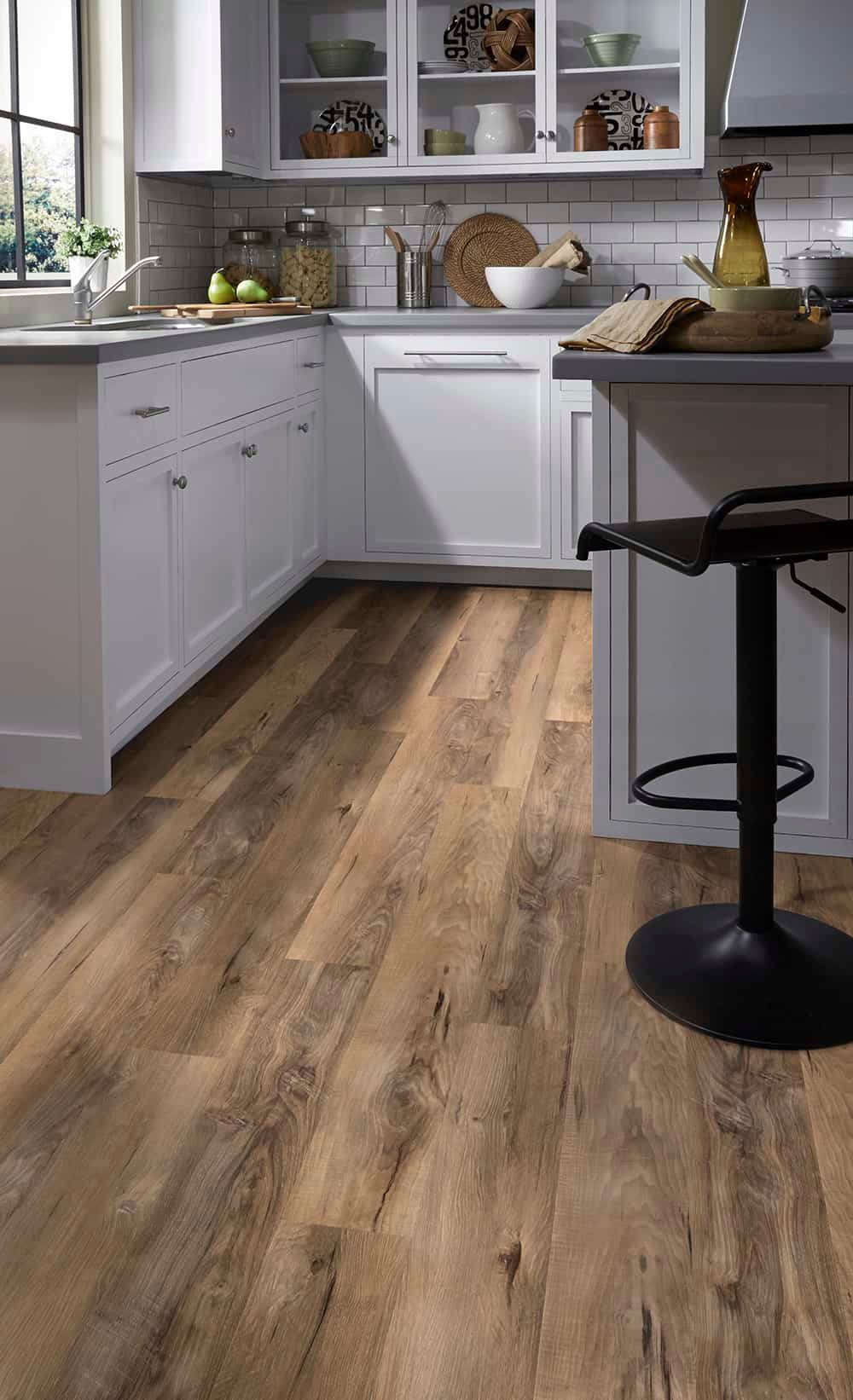 Hardwood: Wood floors are very susceptible to moisture whether it is humidity or liquid. Wood is a naturally absorbent material and will soak up liquids when in contact, if that liquid has a colour it can leave a permanent stain. Water itself can also cause mildew, mold or other microorganisms to grow. However, regularly sealing your floor will help stop moisture from penetrating the wood. That being said, it will not completely waterproof your floors from floods, common spills or high levels of humidity. This makes hardwood not suitable for below grade installations, bathrooms and mudrooms.
Luxury Vinyl: Made from synthetic material this product is waterproof and will not be damaged from moisture or humidity. This makes it perfect for below grade installations and bathrooms.
Versatility
Hardwood: Not all wood is alike, the species of the wood, the grade, cut and colour or finish treatment will determine what your floor looks like. The price difference between these factors and different types of wood can be quite substantial.
Luxury Vinyl: As we mentioned, printing technology has advanced so much that virtually any type of flooring or wood species can be printed and represented accurately. Also, luxury vinyl can be installed with padding under the floor. This gives you the look and beauty of hardwood with more comfort. It also acts as an insulator, making it more energy efficient.
Costs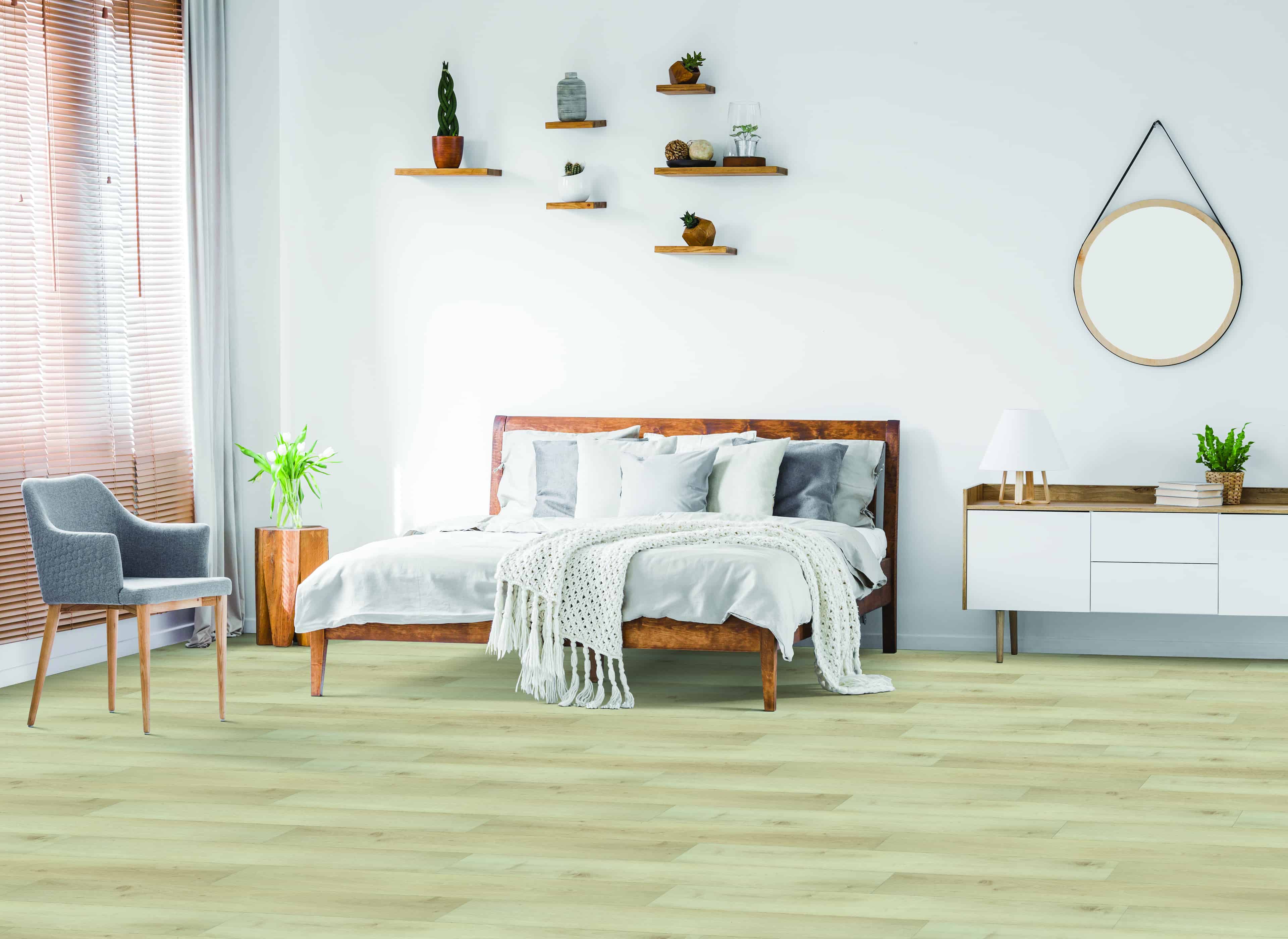 Hardwood: The cost of hardwood all comes down to the species of wood chosen. The less expensive options will be less durable and generally less desirable. Hardwood floors generally start at $6 per square foot and can cost as much $25, plus installation.
Luxury Vinyl: For a decent quality product you are looking to pay between $2 to $5 per square foot. Market demand will set prices to some extent however, there is not as large of a gap between lower and higher end products like there is with hardwood. Textures, prints and some designs may raise the cost of the product.
Environmental Factors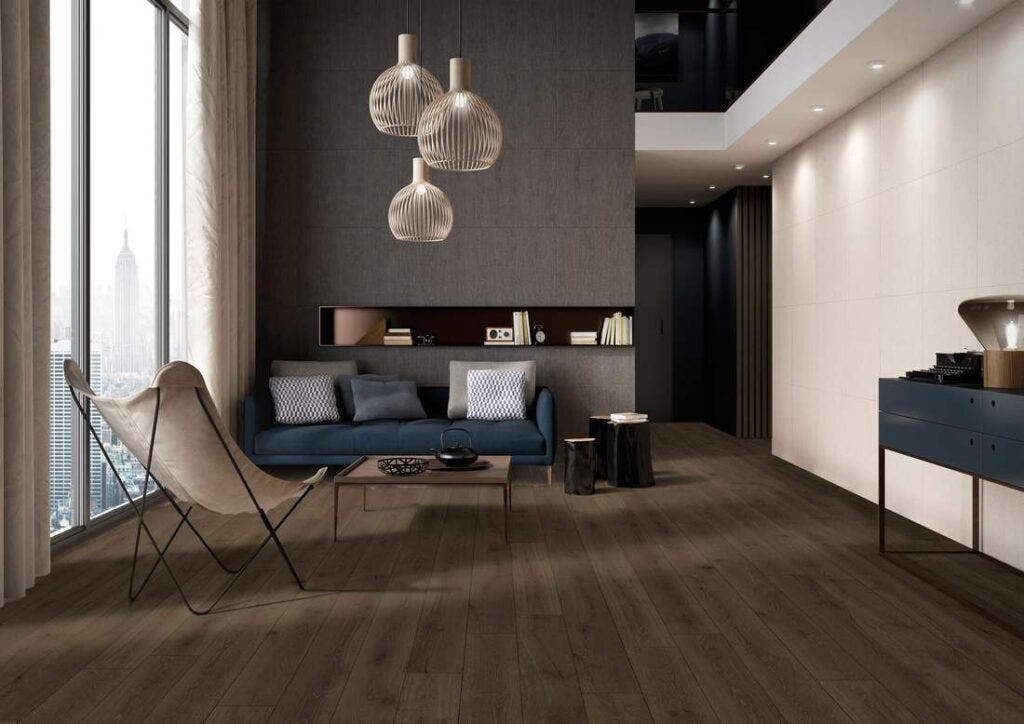 Hardwood: Hardwood floors are a natural material which is produced from trees that are harvested from forested areas. Although trees are a naturally renewable resource, do some research to make sure you are buying from an environmentally responsible manufacturer. Not only will hardwood last for generations if properly cared for and maintained, it can also be recycled because it is biodegradable so it will break down in the environment at the end of its life cycle.
Luxury Vinyl: This is a synthetic material and is manufactured from petroleum, which is a non-renewable resource. Additionally, the process of manufacturing luxury vinyl requires a considerable amount of energy and produces toxic by-products.