Installing new flooring involves making a lot of big decisions. Depending on the project, it can require a large investment. One big decision that needs to be made is whether or not you want to hire a professional to install your new floors or if you can do it yourself. To help you make the best decision, we are sharing the pros and cons of hiring a professional flooring installer and doing it yourself.
Big considerations to think about are: how much time do you have to complete the project, your budget, and your skill level?
DIY Cons:
Depending on the size of your project, it can save you no time. A DIY project can easily drag on and go over the expected schedule. Possibly resulting in an incomplete project.
There are quite a few specific tools that are required to properly install flooring such as, mitre saw, chop saw, skill saw and several other pieces of equipment. You will need to either buy, borrow or rent these tools.
Unless you are very handy and already have the skills necessary to install flooring, it can be very stressful and frustrating to do it yourself. This can quickly lead to mistakes and it will be hard to complete the project as well as a professional.
You can make mistakes and possibly end up having to redo sections or worse, start from scratch, which will add substantial costs to your project.
Some flooring products have specific installation requirements that can affect the product warranty – best to check with your flooring provider ahead of time to ensure you are meeting all installation requirements if you are doing this yourself.
DIY Pros:
If you are handy and know a good amount of installing flooring it will save you money.
There will be a great feeling of accomplishment every time you look at your new flooring that you installed yourself.
You can take on the project at your own pace. You don't have to work with other people's schedules and availability.
Hiring a Professional Cons:
It costs money to hire a professional but you will always get what you pay for. Time, materials used and design can affect the cost of installation.
You may have to wait awhile and schedule your installation weeks or months out. Professionals are busy and can be booked out weeks or months ahead of time.
Hiring a Professional Pros:
With a professional you can ensure your installation will result in quality, long-lasting flooring and it will look amazing. You will have a hard time completing the job better than a professional.
You will have peace of mind knowing your installation was completed by a knowledgeable professional.
Most installations take place during the work day and can be completed in a day or two depending on the size of the project. This means there will be little interruption to your day to day life.
Once the work begins, your installer will be responsible for removing and disposing of your old flooring.
At Nufloors we take the guesswork out of your project by offering a free in-home measure and quote. Some companies and installers will charge for this service.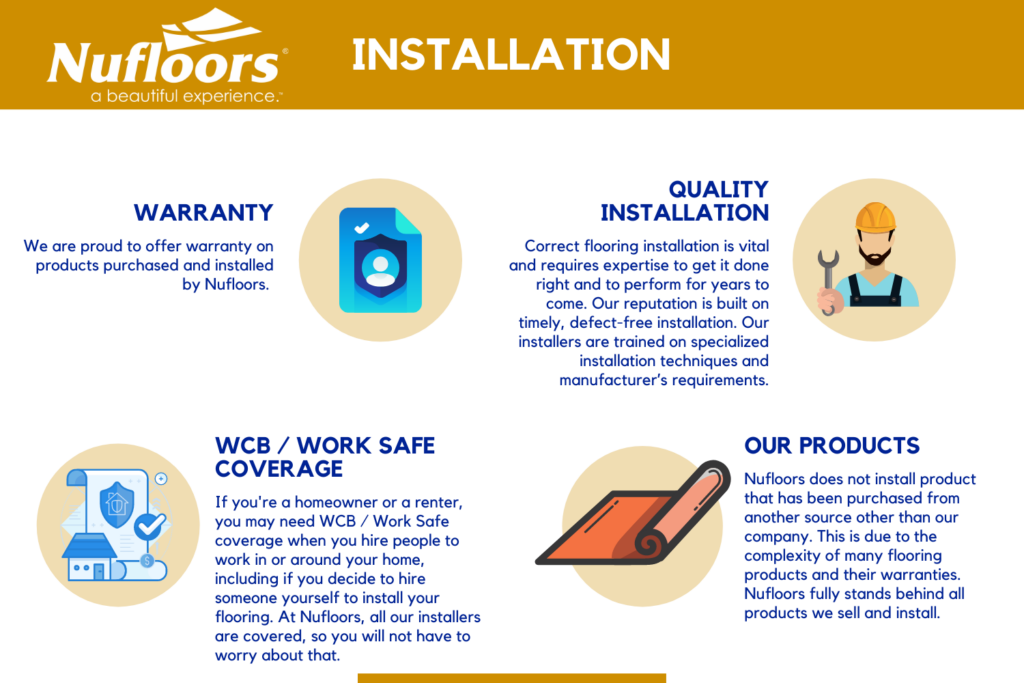 Your Trusted Flooring Store
Whether you decide to install your flooring yourself or hire a pro, Nufloors is here to help. Visit any one of our locations to get expert advice on installation and selecting the best flooring for your needs. Already know what you want? Contact us for a free estimate.