With there being many options to choose from when selecting a carpet, wool carpet is often overlooked. While it may not be widely-used, wool is making a place for itself in the market thanks to its sustainability and durability. While we do think wool carpet is a fantastic option, every flooring types has its advantages and disadvantages. We are breaking down the pros and cons of wool carpet to help you decide if it is the right choice for you and your lifestyle.
Wool Carpet Pros
Sustainability
This is maybe the greatest advantage to wool carpet. With new information about climate change coming out everyday, making decisions that reduce your carbon footprint are more important than ever. Wool is an eco-friendly flooring product. It is made from a renewable resource and, unlike synthetic carpet, it's biodegradable. The environmental benefits of wool don't end there. Wool is a great insulator and will help reduce your heating costs during the colder months. It's also worth mentioning that the manufacturing process is greener. When compared to synthetic carpets, it only takes 1/3 – 1/6 of the energy to produce wool carpets.
Durability
It is no secret that wool is durable and resilient. Humans have been using it in their homes and to make clothing for centuries. It is durable enough to be used on stairs and in commercial spaces, especially if it is a low pile carpet. If properly maintained, wool carpet will keep its original appearance for many years, even in high traffic areas. While it's not quite as resilient as nylon, wool still has strong bounce back qualities that help it last for years. Wool fibres have tiny microscopic scales that help prevent the carpet from soiling.
Hypo Allergenic
Wool carpets absorb dirt and dust by trapping particles in the carpet so they can be easily vacuumed up. This happens due to the unique structure of wool's high pile. When you vacuum, wool has as significantly better soil release than any other carpet fibre.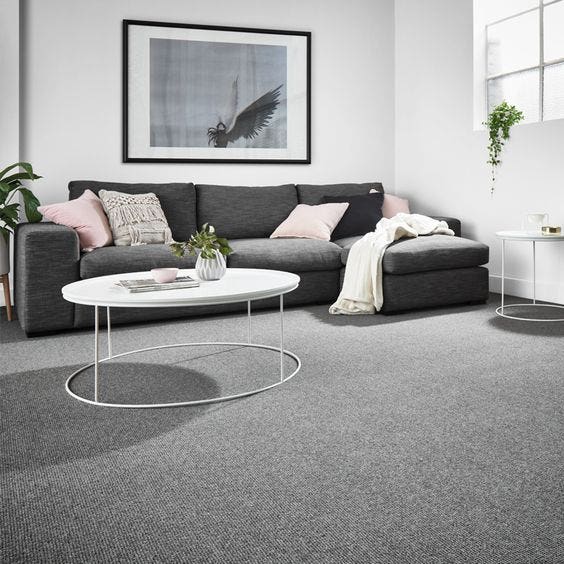 Wool Carpet Cons
Cost
Wool carpet is known as a luxury carpet material and aptly so, it is more expensive than its synthetic counterparts. However, the investment can be worth it by depending on your lifestyle.
Staining
Wool carpet does not require more maintenance. However, since it is made from natural materials, there are some precautions you should take. If there is a spill on your wool carpet, it needs to be cleaned up immediately. Wool naturally repels liquids, but only temporarily. Anytime your carpet needs a deep cleaning, hire a professional. Make sure they are familiar with wool carpets, because wool can be stained or damaged by the wrong cleaning products.
Come See Our Selection
Whether you decide to go with wool carpets or not, Nufloors has all of the latest carpet styles colours and textures. Still not sure which carpet is right for you? We're here to help! Stop by your nearest Nufloors location and chat with one of our friendly flooring experts.