If you want your floors to exude elegance and wow your guests, look no further than wide plank hardwood. When your floors span across the entire room, it is hard for wide plank hardwood not to be the focal point of your home. Without further ado, let's discover what wide plank flooring is and how it will transform your space.
How wide is wide plank floors?
Traditional strip flooring is typically 2 ¼" to 3 ¼" wide, whereas wide plank floors are usually 5" wide and above. You can even find some manufacturers mill up to 10-12" wide planks.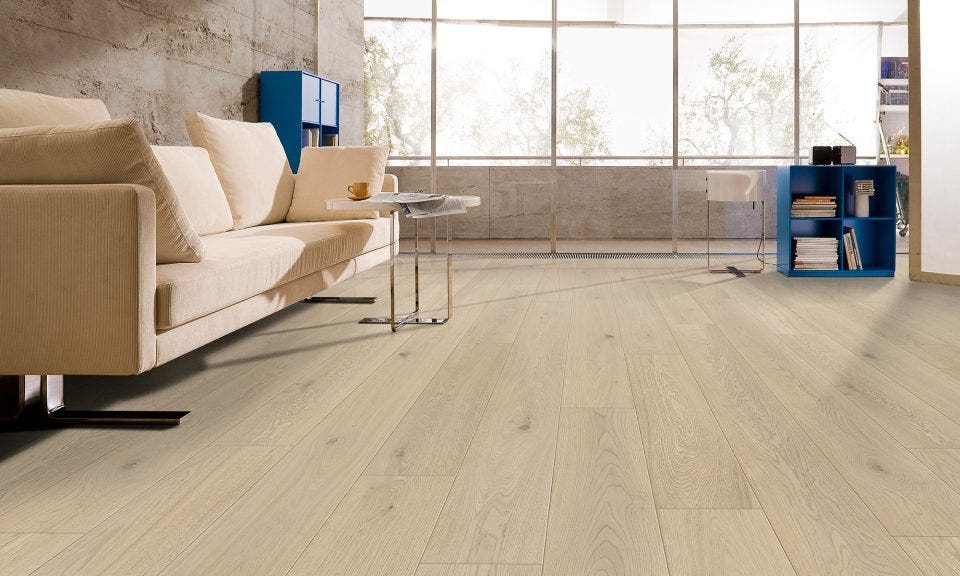 Great Aesthetics
Wide planks are very trendy right now and for good reason. The overall aesthetic cannot be beat! Wide plank hardwood flooring will bring a high-end yet old-world feel to your home. Wide plank flooring, lighter shades in particular, are gaining popularity in contemporary spaces. In large spaces, the wide planks and light wood can give an airy, open feel.
It is also great for making your space feel larger than it really is. This is because with smaller width hardwood floors, there are more seams making it more distracting to the eye. The smaller the width, the busier your floors become, which can make your space feel smaller and cluttered.
With the fewer seams in wide plank flooring, it allows you to fully enjoy the natural beauty of the wood and its graining. With smaller strip flooring, the grains of the wood are on a significantly smaller scale. Take in all of the beautiful character of hardwood flooring with wide planks as it showcases and highlights the unique colour variations and graining.
Ready to bring the beauty of wine plank wood floors into your home? We can help! Contact us today for a free estimate, or stop by one of our showrooms to speak to a hardwood flooring expert.