How to Make Dark Walls Work in Your Home is brought to you by Mannington Floors.
Find a flooring that pairs perfectly with dark walls.
From bedrooms to living rooms, bathrooms and even tighter spaces like laundry rooms, dark colours can elevate the elegance of your home design. When paired with the right flooring, furnishings, and accessories, they can be very impactful. We have a few examples for you so you can see how you can incorporate dark wall colour into your home design.
Dress your bathroom in dark jewel tones.
Rich tones on your walls, like the emerald/jade colour seen here work best when paired with crisp, light flooring. Shown here is the ADURA® Vienna vinyl plank in Alabaster. The clean floors and gold trim and hardware accent the lush emerald walls. This works perfectly with the porcelain sink, white drawers, and modern standalone bathtub. The decorative 3D geometric wall serves both as a backsplash and a piece of visual interest, creating more depth in this otherwise small space.
Accent with a dark hue.
Again, we see a dark wall in an otherwise small space in the home, but this time the dark colour is used to create an accent wall that's rich with texture. By using tiles in a range of shades from the same colour family (in this case, black), you achieve all the drama that a dark wall brings without overwhelming the space. Pairing the dark tiled wall with a bold, ornamental floor like ADURA®MaxAPEX vinyl plank Trellis, (shown here in the colour Iron), pulls the room together and creates a striking contrast.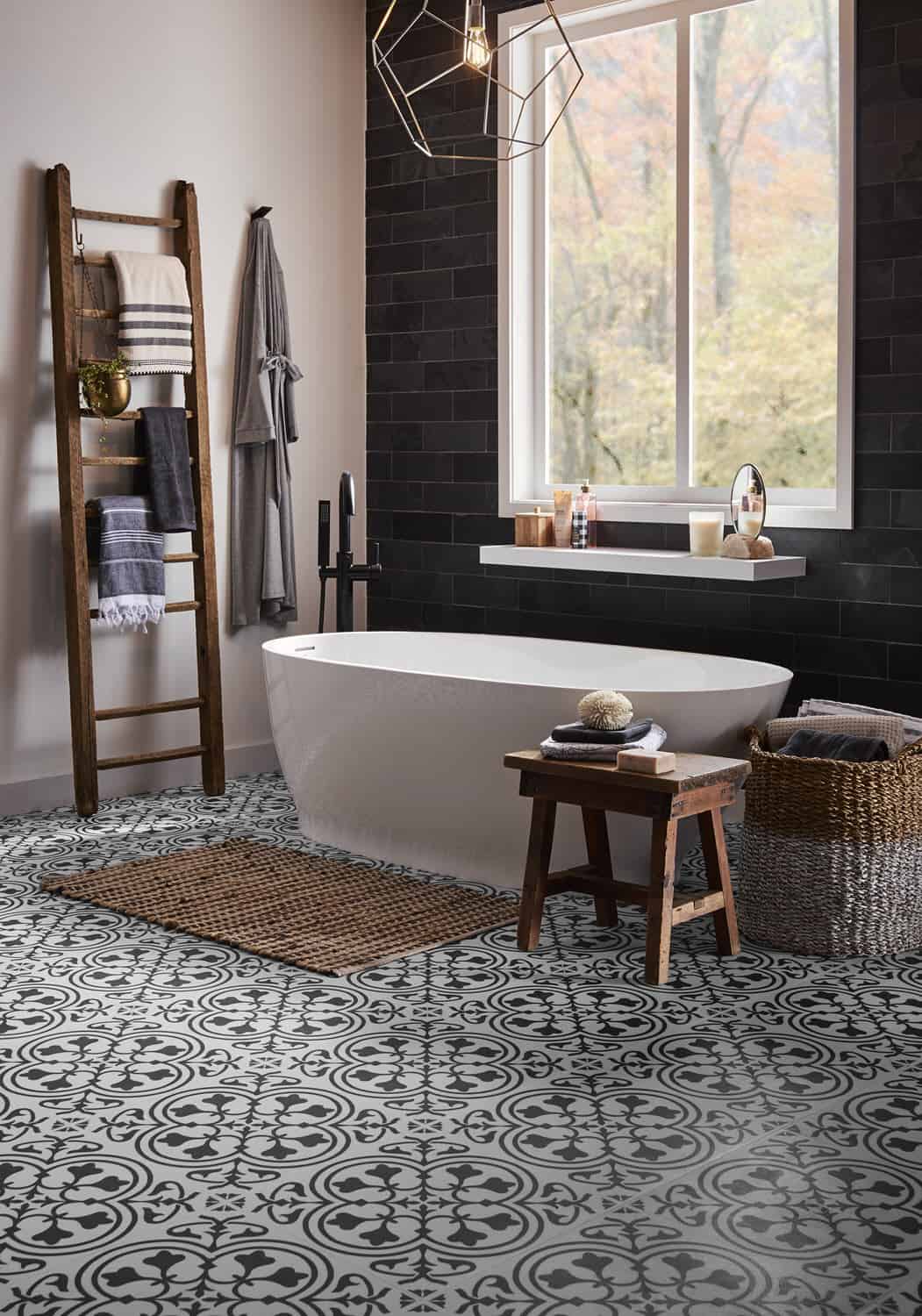 Envelope a living room with leafy green.
This room totally goes against any design rules in the past by covering every surface with dark colours. From the doors to the walls and ceilings, rich, sultry hues fill this home living space. The monochromatic walls work because they're broken up with unique trim placements that help create depth on an otherwise flat surface. Elements like gold-framed accent tables, Triumph hardwood floors in Silver, and unadorned windows that let natural light in really open up the space and allow dark paint to work its magic in this living room.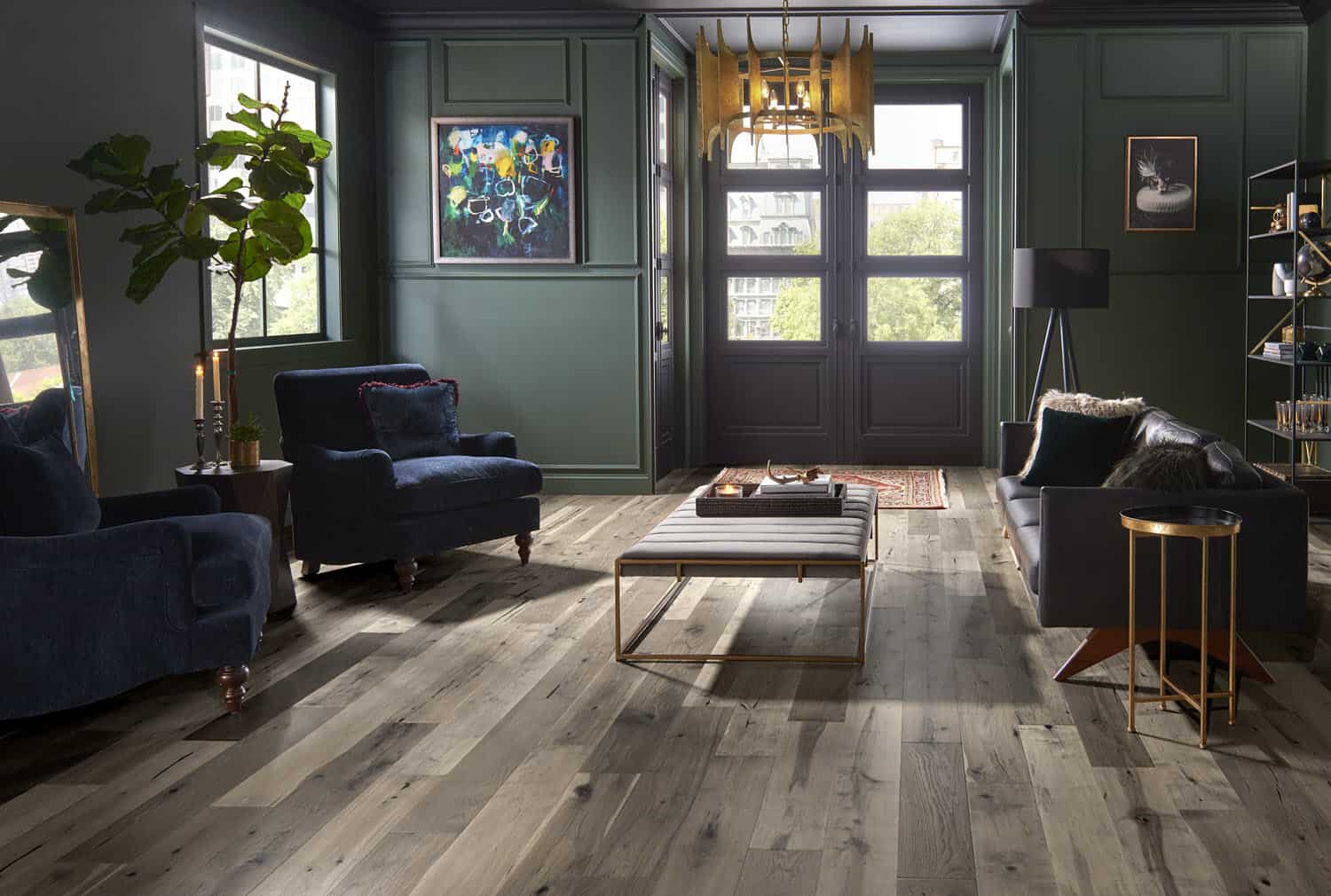 Open your bathroom with dark walls and contrasting floors.
This room celebrates dark colours in every sense, both on the wood plank accent wall and the rich charcoal walls surrounding it. Paired with ADURA® vinyl plank Pasadena floors in Sediment, this stylish bathroom mirrors some beautiful dark colours that are found in nature. Simple accents, like the rounded industrial ceiling lamp and concrete fixtures, tie the look of this room together. While the expansive window, tree stump stool, and potted plant capture the essence of the outdoors, filling this space with life.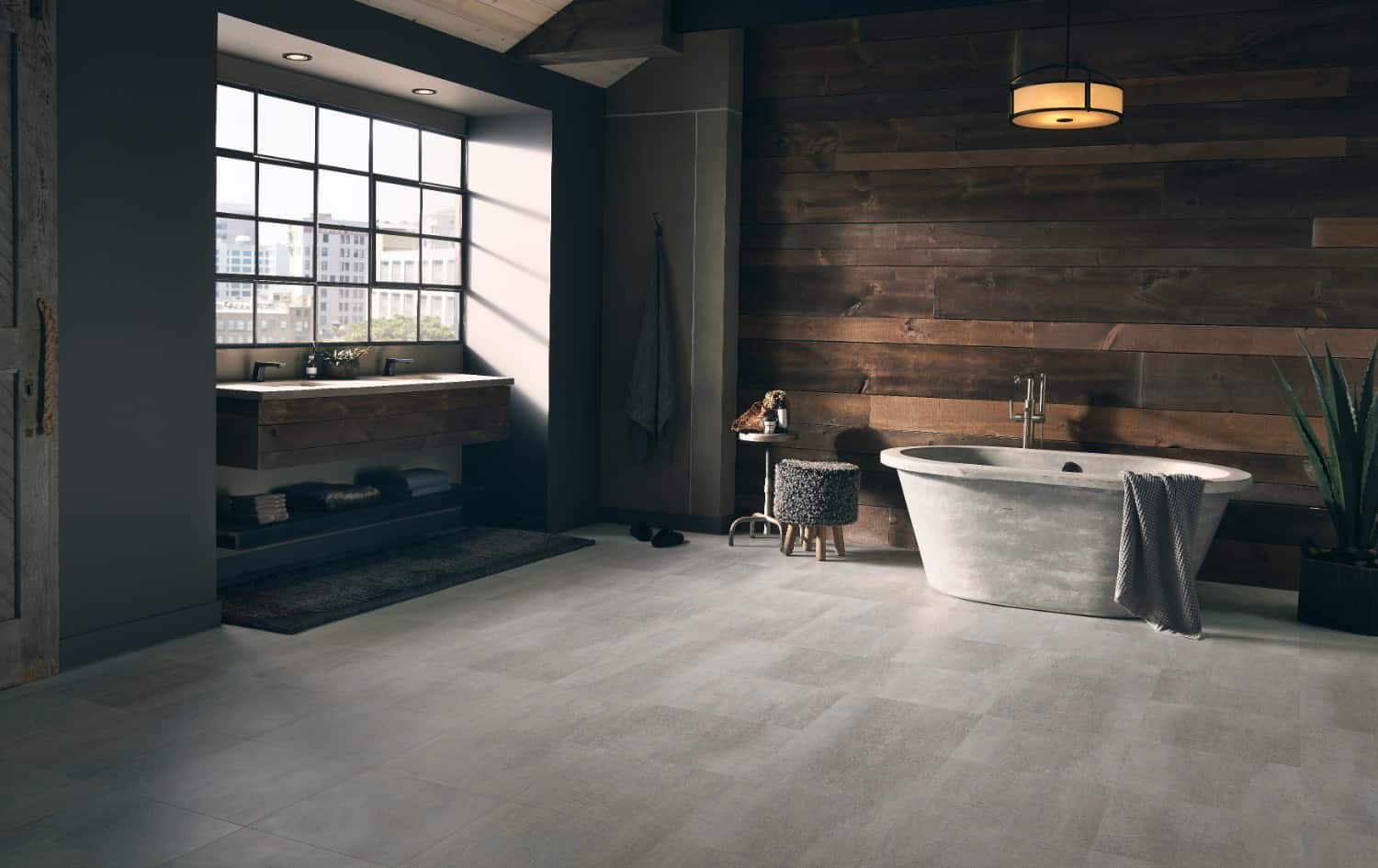 Amplify the look and feel of luxe.
In this bathroom, black walls and white wainscoting are used to capture pure elegance. The lengthy, unadorned windows let in all the natural light you could ever want. While the metallic wall accessories, decorative glass bowl, and porcelain bathtub provide functionality. The ADURA®Max Legacy vinyl plank flooring in White with Gray ties the black and white palette together, giving the floor a marble appearance that amplifies the look of luxury.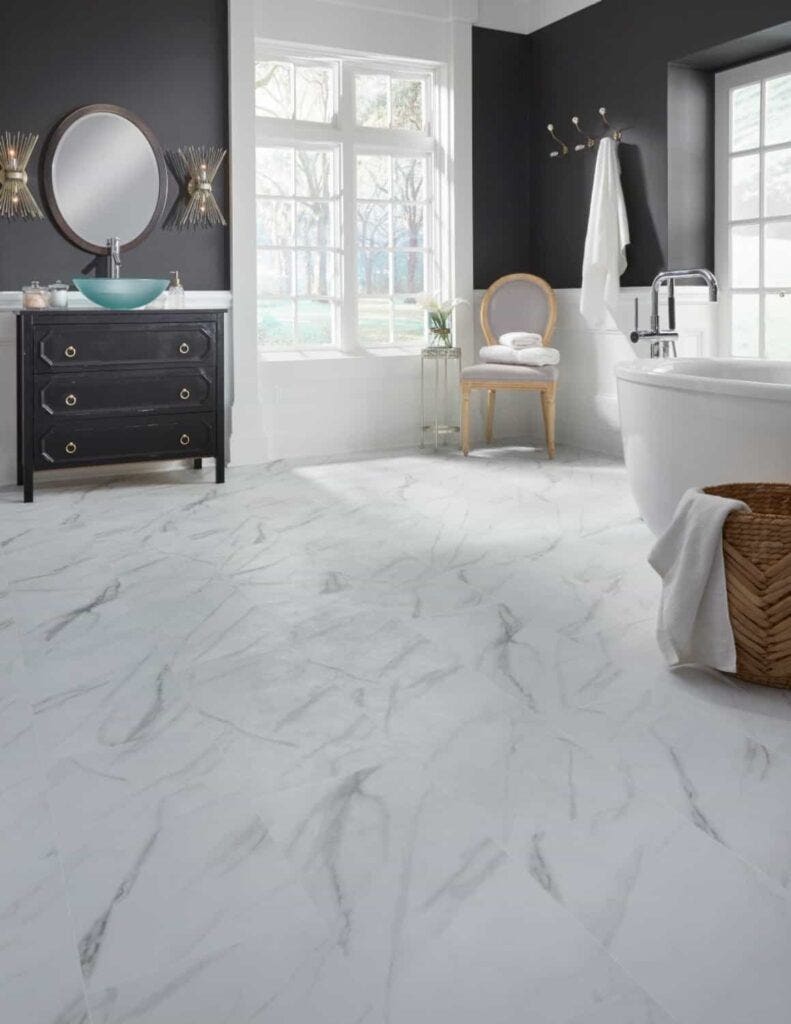 Warm a room with wood-look vinyl.
If you're using dark colours in cool hues, you may find that your space feels cold visually. Vinyl plank flooring with a wood-grain texture can help combat that feeling. From man caves to entryways, living rooms, and even basements, ADURA®MaxAPEX Rivermill vinyl plank in Axel adds a warm and robust feel to any room in a home. Now you can have the comforting appearance of hardwood floors with the water-resistant property of vinyl.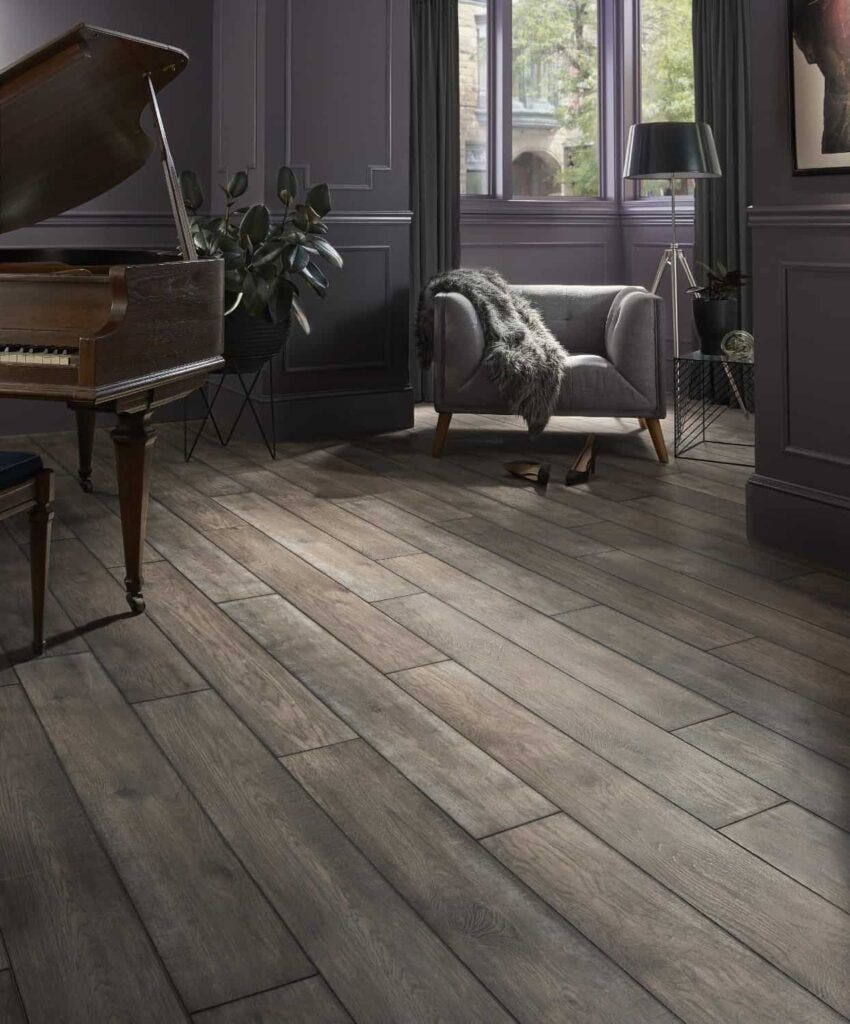 Stay on trend in every space.
The laundry room is another room that's often smaller in size, but dark colours still have their place in this space. Deep teal walls are brightened with stark white cabinetry and window and floor trim. Laminate Restoration Collection® also helps lighten the feel of this laundry room by complementing the airy wooden elements in the space. The Chevron pattern, which originated in 17th century France where it adorned the palaces of Kings and nobility alike, adds a sense of regality to this room that's otherwise used for everyday tasks.