If you are looking for a style that you can make your own, bohemian design just may be for you. When it comes to boho designs, no two rooms are the same. Boho is inspired by those who choose to lead unconventional lives such as constant travellers, artists or writers. It is a sometimes eclectic collection of objects, colours and patterns from many areas around the world. So, if you are ready to create a home full of life and culture, it is time to embrace the carefree, globally-inspired look of bohemian design. In this guide we will share design essentials for creating a bohemian look in your home.
Colours
Common colours found in boho design include, warm earthy tones, metallics and jewel tones. When it comes to base colours think deep browns, greens and greys and then use saturated purple, fiery orange and electric blue to accessorize. However, if this all seems a little too much, white can be a great backdrop for those richer tones.
Don't be afraid to mix and match patterns and textures. With bohemian design you can use styles that would not typically go together in a conventional way. Also, incorporating textiles and patterns from around the world give the space an interesting, fun and exotic feel.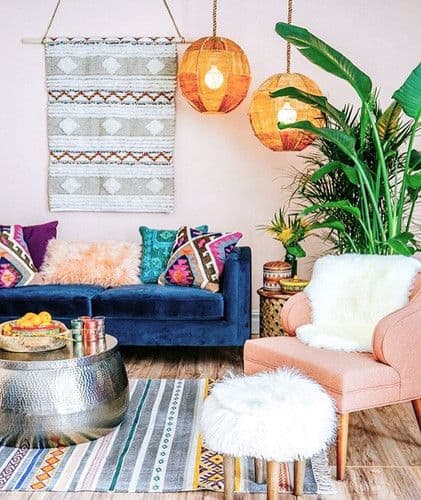 Furniture
Have fun exploring your local second hand stores and thrift shops for vintage items. Bohemian designed rooms tend to be filled with furniture that has been collected over time and can tell a story. The only rule is, if you love it, it will fit right in. A boho room should have a "sit and stay awhile" vibe so it is important to choose comfortable and relaxing pieces like chaises lounges, day beds or butterfly chairs. Keep your eyes open for rattan furniture as these materials are classics in boho design.
For a fun twist add a hanging chair or hammock and don't forget to add floors pillows and a Moroccan poof to add to the "sit and stay awhile" vibe.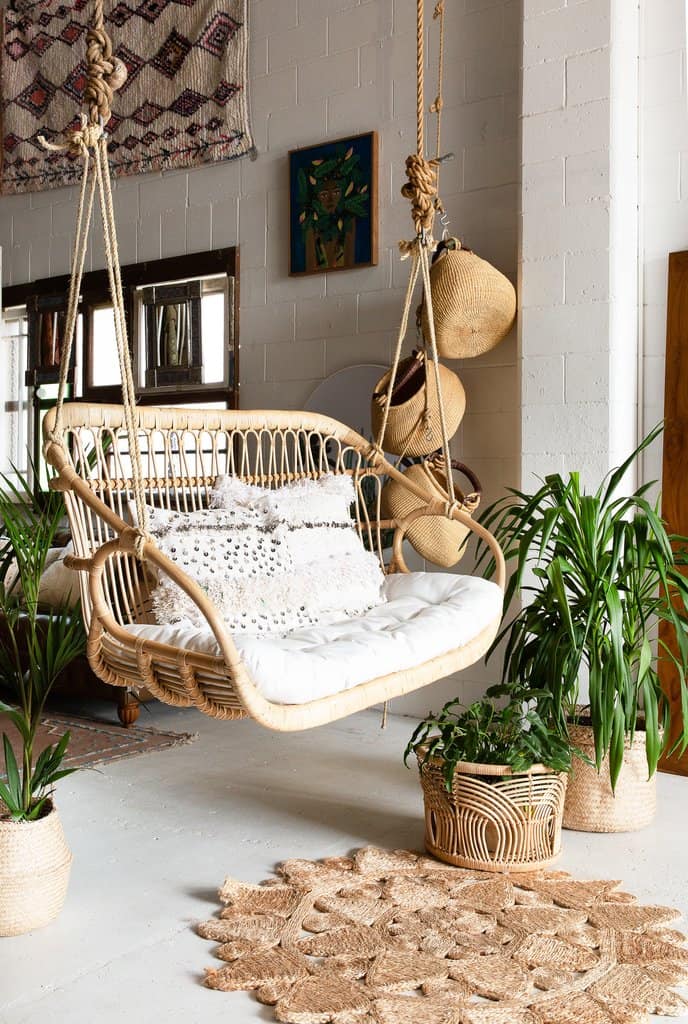 Lighting
Boho design is all about ambient lighting. It will unify the room by completing the calm and welcoming feel. Instead of using typical overhead lighting, decorate with multiple light sources. Use lanterns, candles, and floor and table lamps. In today's global market it is easy to collect items in a variety of shapes and styles, perfect to complete the mix and match look.
Look for metal Moroccan inspired lanterns in different sizes and wood beaded chandeliers or DIY and make your own!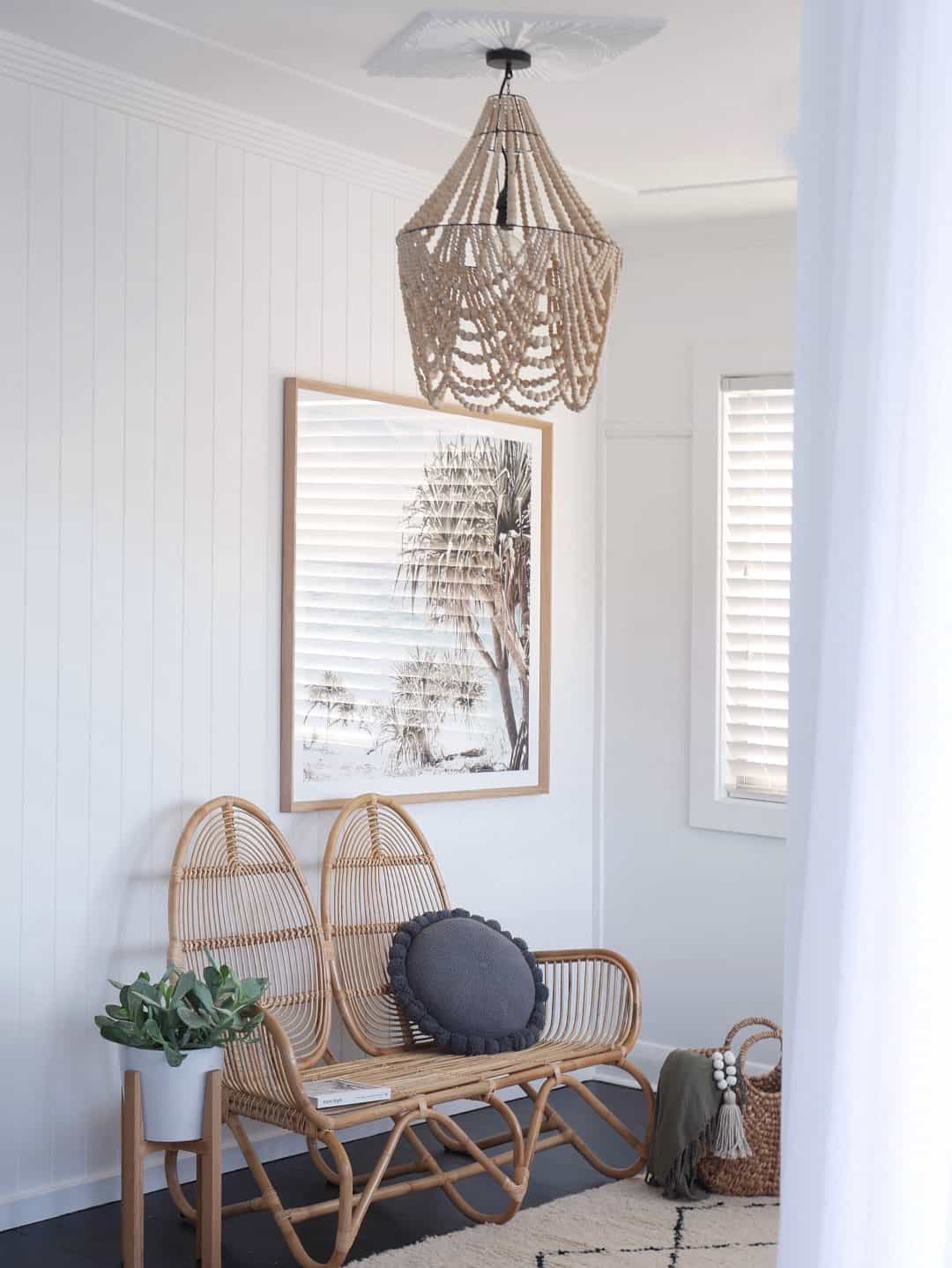 Décor & Accessories
Bohemian design embraces a "more is more" philosophy, the complete opposite from the current minimalism trend. The key here is to mix and match decorative elements such as combining natural materials like burlap or sisal with silk or chenille. Use texture and different materials to create a cozy, globally inspired hangout. Fringe, crochet, macramé, pillows, curtains, and canopies are essentials. Don't forgot to incorporate seagrass baskets, plants and succulents, and items you have collected over time through your travels.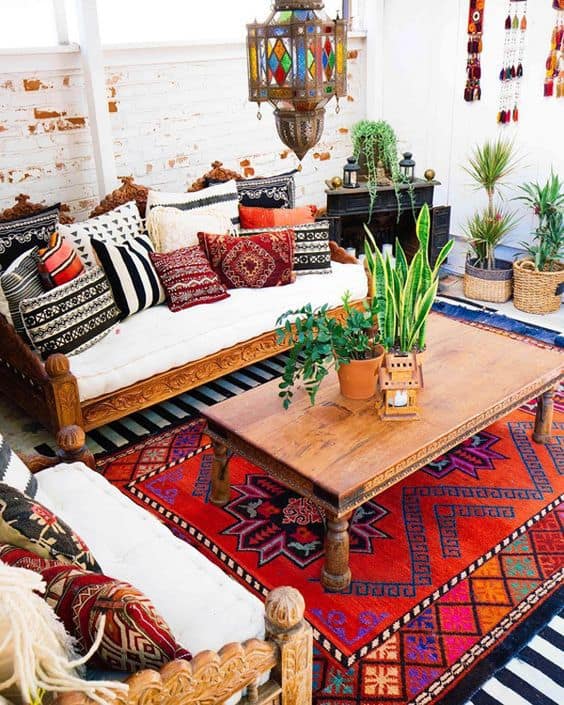 Flooring
Area rugs, area rugs and more area rugs! There are so many options to choose from when it comes to rugs and bohemian design. Look for a vintage, Turkish or Moroccan area rug and don't be afraid to layer them to help create a comfortable space that is perfectly bohemian.
Other flooring options that will pair perfectly with the bohemian look is sisal carpeting as it is beautifully natural and rustic. If carpet isn't for you, go with a hand scraped hardwood. It is perfectly imperfect and will add personality to a laid-back bohemian home. If hardwood is not in your budget that is okay! There are plenty of laminate and luxury vinyl options that realistically mimic the look of hardwood.